Marinate October 6th::: 1 Year Anniversavory!
October 6, 2016 @ 8:00 am

-

11:00 am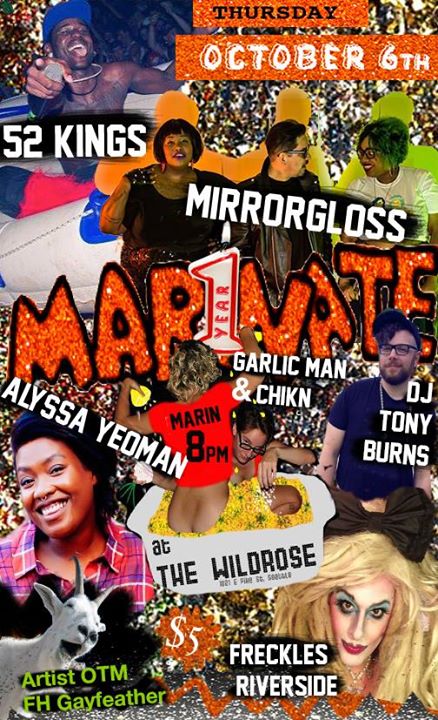 MARINATE IS TURNING 1!!!
We've had a sweaty year and we've showcased some of Seattles hottest stars! We're taking a break from the event after this one so come show your support for your community. drop $5 at the door! Tip your performers! Theres gonna be some raffle prizes just for coming! Invite your friends your family your coworkers all of it because this line up is going to be a fricken baste!
::::::::::::::::::::::::::::::::::
ATTENTION:: All of these performers are about to be really famous so come catch um while they're only $5
::::::::::::::::::::::::::::::::: 21+
:::::::::::::::::: doors at 8
:::::::: live show at 9
MIRRORGLOSS:
blowing up as we tweet, Mirrorgloss had their first radio appearance last week!! The first time I saw them I cried but really it's not sad just super fuxing feel good hot jams. sexy dance beats and live riffs by danny backing up the hottest power house vocalist duo you'll never forget:::
http://www.mirrorgloss.com
52KINGS:
Professional AF on the rollerskates, this wordsmith combines 2 of his hottest talents to hype the shit out of your little heart:::
https://soundcloud.com/52kings
https://www.facebook.com/52Kings/videos/1149696101762366/
ALYSSA YEOMAN:
Appearing on everything and everywhere, Alyssa is an artisan stand up comedian with the actual best opinons:::
https://twitter.com/alyssaYEO?ref_src=twsrc%5Egoogle%7Ctwcamp%5Eserp%7Ctwgr%5Eauthor
FRECKLES RIVERSIDE:
Gorgeous and talented and full of accurate information this Seattle drag queen is the star of "Hookin and Cookin" and we can't wait to see what she's coooked up for Marinate!:::
https://youtu.be/HThHItySrF8
DJ TONY BURNS:: TONNNYYYY so much love for this huge hearted baby. Such a talented mashmaker, DJ and friend When he asked us if we would want to do a monthly at The Wildrose there was no hesitation. This event has been a magical experience bringing all sorts of warm feelings and love into a historically important seattle establishment. We've had the most possitive feedback from every performer and audience member and we're forever greatful.
GARLIC MAN & CHIKN : we are all garlic man and chikn.
So excited to have been able to put on this variety show for the past year! we've met and hosted some of the best humans we've ever met! for super real honored to get to dance around in the same room as all these beautiful folks.
http://garlicmanandchikn.com
& new art for the walls by
FH GAYFEATHER::
West Coast artist specializing in printmaking, drawing and watercolor, that red wall is gonna look so dang good
http://fhgayfeather.com