Mattilda Bernstein Sycamore And Contributors Discuss Between Certain Death And A Possible Future
September 30, 2021 @ 7:00 pm

-

8:00 pm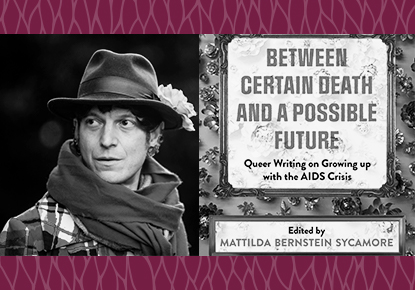 Thursday, Sep. 30, 2021, 7 – 8:15 p.m.
Where

Online

Address

Patrons can register via Eventbrite

Audience

Adults

Language

English

Summary

Join us for the launch of "Between Certain Death and a Possible Future," a collection which examines the ongoing and persistent impact of the HIV/AIDS crisis in queer lives.

Description

The event is presented in partnership with Elliott Bay Book Company. This event is supported by The Seattle Public Library Foundation and the Gary and Connie Kunis Foundation. Thanks to media sponsor The Seattle Times. This event will be recorded, captioned and then posted on SPL's YouTube channel after the event.

About the Book:

Every queer person lives with the trauma of AIDS, and this plays out intergenerationally. Usually we hear about two generations—the first, coming of age in the era of gay liberation, and then watching entire circles of friends die of a mysterious illness as the government did nothing to intervene. And now we hear about younger people growing up with effective treatment and prevention available, unable to comprehend the magnitude of the loss. But there is another generation between these two, one that came of age in the midst of the epidemic with the belief that desire intrinsically led to death, and internalized this trauma as part of becoming queer.

Between Certain Death and a Possible Future: Queer Writing on Growing up with the AIDS Crisis offers crucial stories from this missing generation in AIDS literature and cultural politics. This wide-ranging collection includes 36 personal essays on the ongoing and persistent impact of the HIV/AIDS crisis in queer lives. Here you will find an expansive range of perspectives on a specific generational story—essays that explore and explode conventional wisdom, while also providing a necessary bridge between experiences. These essays respond, with eloquence and incisiveness, to the question: How do we reckon with the trauma that continues to this day, and imagine a way out?

About the Speakers:

Mattilda Bernstein Sycamore is the author of two nonfiction titles and three novels, and the editor of five nonfiction anthologies. Her latest book, The Freezer Door, was a New York Times Editors' Choice, one of Oprah Magazine's Best LGBTQ Books of 2020, and a finalist for the PEN/Jean Stein Book Award. Her memoir, The End of San Francisco, won a Lambda Literary Award, and her novel Sketchtasy was one of NPR's Best Books of 2018. Her anthology Why Are Faggots So Afraid of Faggots?: Flaming Challenges to Masculinity, Objectification, and the Desire to Conform was an American Library Association Stonewall Honor Book. Between Certain Death and a Possible Future is Sycamore's sixth anthology.

EJ Colen is the author of What Weaponry, a novel in prose poems; poetry collections Money for Sunsets (Lambda Literary Award finalist in 2011) and Waiting Up for the End of the World: Conspiracies; flash fiction collection Dear Mother Monster, Dear Daughter Mistake; long poem/lyric essay hybrid The Green Condition; fiction collaboration Your Sick; and fiction collaboration True Ash. Nonfiction editor at Tupelo Press, and freelance editor/manuscript consultant, she teaches at Western Washington University.

Laura LeMoon is a queer, neurodivergent sex worker and sex trafficking survivor. Their writing, interviews, and activism work have been featured in the Huffington Post, AP News, NBC, Rolling Stone, the CBC, BuzzFeed News, and Vice. Laura has collaborated with the Centers for Disease Control, the United States Department of Justice, local health departments and the United Nations Office on Drugs and Crime as a peer advisor on issues related to HIV vulnerability among people in the sex industry. They live in Seattle with their rescue pup, Coco Bean.

Patrick Milian lives and writes in Seattle. He teaches writing and literature at Green River College and is the author of the chapbook Pornographies. His poems and essays have appeared in the Denver Quarterly, Fourteen Hills, Mid-American Review, and POETRY. His book, The Unquiet Country, a collaborative project with the composer Emerson Eads, is forthcoming from Entre Ríos Books.

Eddie Walker was born and raised in Canton, Ohio. He attended Kent State University and graduated in 1998 with a BBA in computer information systems. After graduation, Eddie Walker moved to Seattle, WA. He continued his writing education by attending classes at Seattle's Hugo House and is working on his first memoir. For recreation, Eddie Walker enjoys fishing, gardening, and going to the gym. Eddie Walker lives in Seattle, with his partner three Labradors: Judah Valentine (chocolate female), Paco Versace (black male), and Kayla Vanderbilt (yellow female).

View in Catalog

Between Certain Death and a Possible Future by Mattilda Bernstein Sycamore

ADA Accommodations

We can provide accommodations for people with disabilities at Library events. Please contact leap@spl.org at least seven days before the event to request accommodations. Captions are available for all recorded Library programs.

Event Information

For registration information and other questions, Ask Us or 206-386-4636.
Related Events