Motown on Monday (on a Friday) @ Monkey Loft
December 3, 2021 @ 10:00 pm

-

December 4, 2021 @ 4:00 am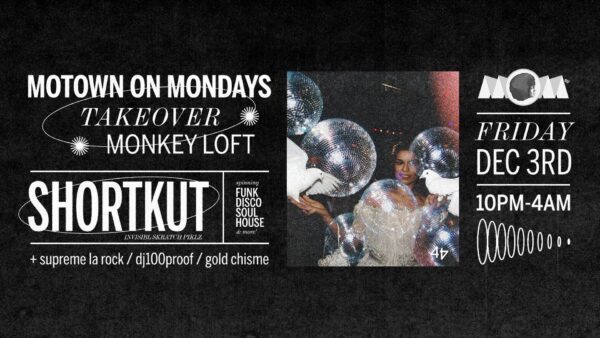 MOTOWN ON MONDAY TAKEOVER
Why didn't we try this sooner!? We put a legendary turntable master with an incredible team repping the NW with the best in 60s, 70s, and 80s feel good funk, soul, disco, and remixes.
DJs:
Shortkut (Invisibl Skratch Piklz)
A founding member of the Invisibl Skratch Piklz and Triple Threat DJ crews, Shortkut is one of the West Coast's most respected turntablists. At 18 he helped found the Invisibl Skratch Piklz with Mix Master Mike, Q-Bert, and DJ Disk. The Piklz went on to become one of the most influential DJ crews of all time, eventually leading Shortkut to membership in the Beat Junkies. We're incredibly excited to see what he can do with the Motown on Monday format (on a Friday).
Supreme La Rock
dj100proof
Gold Chisme
***TICKETS ON SALE 11/18***
21+
Related Events