Night Crush Pride !!!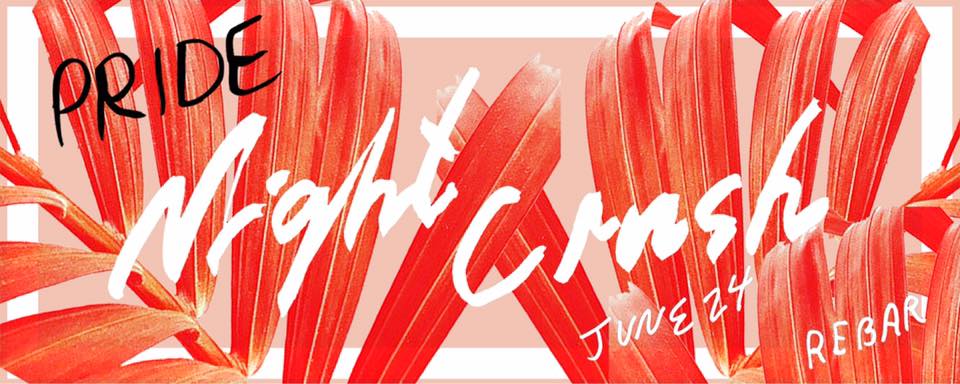 Night Crush is a HELLA QUEER, late night dance party that centers marginalized identities and bodies. For queers and their legit allies.
————————–———————-
Once again, Night Crush will be your Pride go-to for the queerest, sweatiest, most gorgio scene !!!
————————–———————-
DJ's
*** Night Crush is so fucking excited to bring to you… all the way from NY… SISSY ELLIOTT !!!

From being Mykki Blanco's tour DJ, to wrecking dance floors across the globe, SISSY ELLIOTT, packs the heat we need for this long awaited summer !!!
*** It's no mistake that now for the 3rd year in a row, Night Crush has booked, KINGDEE, for our Pride party !!! We are literally OBSESSED with the sound and energy she brings, and want y'all to have the best of the best for Pride !!!
*** And always, resident-president, Riff-Raff !
————————–———————-
GOGO'S
Jade !
Kara !
Marita !
Randy !
Annie !
Sydney !
Stephenie !
————————–———————-
To compensate for travel expenses / increased artist pay without increased capacity in the venue, Night Crush has raised its Pride cover to $20. That being said, as always, the first hour is sliding scale ($0-$40), and absolutely no one will be turned away for lack of funds.
————————–———————-
This space is wheelchair accessible. Both entrance and ADA bathroom (which is located on the west side of the building, in the hallway that runs between the bar and the dance floor) are 36″ wide. Dance floor is accessed by both the east and west ends of the bar.
————————–———————-
Brought to you with love from Leola, SJ, & Alea
Related Events