Noise Complaint: Are You Afraid of the Dark?
October 27, 2017 @ 9:00 pm

-

2:00 am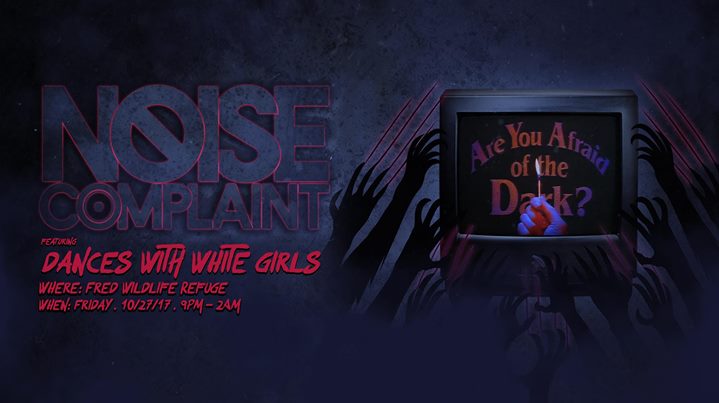 🎃 TICKETS ON SALE ON SALE NOW @ http://WWW.AREYOUAFRAIDSEATTLE.COM 🎃
Join us for a very spooky edition of everyone's favorite party, as we turn Fred Wildlife Refuge into the sort of haunt where goblins, ghouls, ghosts, vampires and everything in between can come dance the night away to a Monster Mash like none before it.
You already know we'll be pulling out all the stops to make this an unforgettable evening – from the music, to the decor and the costumes and of course a few tricks up our sleeves….it's sure to be a treat!
Heart stopping DJ sets from:
DANCES WITH WHITE GIRLS
http://www.facebook.com/danceswithwhitegirls
http://www.soundcloud.com/danceswithwhitegirls
http://www.twitter.com/dances
Dances With White Girls, better known as Frog to his friends and colleagues has been DJing in the Philly & NYC scenes for over a decade now. A self described "edm celebrity / lay influencer / social media theorist / philosopher / greatest trapper of his generation", Dances has seen incredible success recently as the vocalist on such bombshell tracks as Chris Lake's "Operator", summer smash hit "Take Me to Your Leader" with Walker & Royce, and more recently "Give Her Right Back" also with Chris Lake. This is a VERY RARE West Coast performance and with his own releases on such labels as Trouble & Bass, Play Me Records, Ulra, and Dim Mak – Dances has had more influence on the music you love than you know. One quick look at his twitter feed and you know he is bout that life and ready to party with us and all of our Noise Complaint fam.
LOCAL SUPPORT FROM:
Subset
BGeezy
Mike Devlin
Things you can expect:
* Costume Contests with $$CASH PRIZES$$
* Multiple rooms of music
* Interactive art, visuals, & design
* Local and National DJ Talent
+ MUCH MUCH MORE 💀 💀 💀
TICKET OPTIONS INCLUDE:
VIP ($50)
*very, very limited!*
+ FREE HOSTED CHAMPAGNE FOR AN ENTIRE HOUR (9-10pm)
+ FREE Coat Check
+ Jump the line for in and out privileges
+ Fancy AF wristband
+ Artist Meet & Greet
EARLY BIRD ($30)
*very limited!*
Our lowest priced tickets! Limited quantity, get yours while they last!
SLIGHTLY LESS EARLY BIRD ($35)
Still a great deal! Limited quantity, if we're already at this tier you better act now!
Ya Snooze Ya Lose ($45)
If we're on this Tier it means tickets are DANGEROUSLY CLOSE TO SELLING OUT. Grab yours now or be stuck on the couch eating last year's Halloween candy all night!
—
👻 VERY LIMITED TIER 1 Tickets available NOW 👻
21+
9pm – 2am
—
🔇 ABOUT NOISE COMPLAINT 🔇
Gone is the party where the music and the people at the party mattered more than making money. As Electronic Dance Music has exploded in popularity over the last several years, so have crowds and ticket prices along with it. In the beginning, events were held in underground, often intimate venues. It was about the music, and it was about each other.
Noise Complaint is taking it back to its roots, bringing the people quality, dance floor focused house and techno all while pushing that party-don't-stop vibe that everyone loves. We're bringing in huge talent – DJs and producers that are well known and respected but that we also personally vibe with. We're doing this at a small price, and in an intimate space. It's about the music for us, it's about the party and the vibe and the memories and friends you will make. Every Noise Complaint should be the best party you've been to since well, the last Noise Complaint.
We're more than just a party, we're a movement.
—
ABOUT FRED WILDLIFE REFUGE
Fred Wildlife Refuge is a 5700 square foot event space with state-of-the-art sound and video. The fully customizable space and 20×60 foot immersive video wall are a delight for artist and attendees alike. A special space that is adored throughout Seattle, FRED is the perfect place to allow us to flex our creative muscles and provide you with a fully immersive Halloween experience that is a break from the norm.