Noise Complaint ft. Bruno Furlan & Proper Villains
October 11, 2019 @ 10:00 pm

-

3:00 am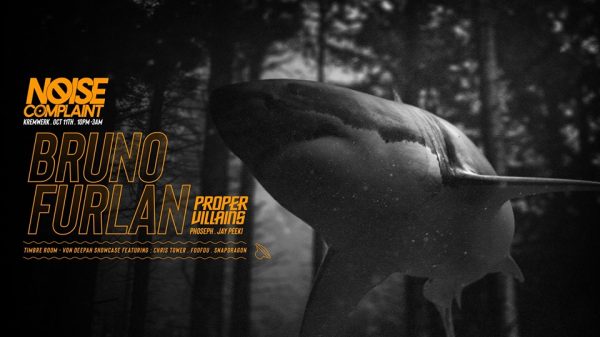 Noise Complaint and the Kremwerk/Timbre Room Complex are proud to present, two rooms of thoughtfully curated music featuring:
🦈 BRUNO FURLAN 🦈
www.facebook.com/brunofurlanpage
www.twitter.com/djbrunofurlan
www.instagram.com/brunofurlan
www.soundcloud.com/djbrunofurlan
Talents such as Bruno's usually manifest themselves very soon and only require the ideal environment to reach their full potential. Having it at home from an early age, he seized his assets to become one of the freshest new prodigies out of Brasil's underground scenario and, in the process, founded his own platform for releases, Whistle Records, as well as others as distinguished as Nervous, CUFF, Dirtybird, This Ain't Bristol and Relief. Gifted with the vision of someone who already counts half of his youth dealing with music and that appetite forged by the exposure to DJ culture still in his childhood, he persists on surprising his peers and has been constantly lauded and invited to join the likes of Amine Edge & Dance, Green Velvet and Claude VonStroke in their adventures around the globe, be it playing in events such as The Dirtybird Campout or exploring the Australian outback, always propelled by an unstoppable love for his art and guided by his infectious groove. Every single element that brought him to this moment and will take him even further.
😈 PROPER VILLAINS 😈
www.propervillains.net
www.facebook.com/propervillainsbass
www.twitter.com/propervillainny
www.soundcloud.com/proper-villains
www.instagram.com/propervillains
Proper Villains aka Jonathan Shulman makes music for dirty, smoke-filled rooms, where you can't see the DJ and you don't particularly care. A multi-genre producer and DJ with an ear for what's fresh, his tracks and sets are cutting edge, well thought out, and keep the dance floor moving. We can't wait to host him at Noise Complaint!
LOCAL SUPPORT FROM:
💣 PHOSEPH 💣
🔥 JAY PEEKI 🔥
———————————————-
UPSTAIRS IN THE TIMBRE ROOM
🕳 VON DEEPAH SHOWCASE 🕳
Exploring the deeper, darker, more melodic side of things…
🌲 Chris Tower 🌲
🌹FooFou 🌹
🌺 Snapdragon 🌺
———————————————
🎟 VERY LIMITED $10 TIER 1 Tickets available NOW 🎟
Ticket Prices:
$10 Tier 1
$15 Online Pre-Sale
$20 Day of Show @ Door
21+
—
🔇ABOUT NOISE COMPLAINT🔇
Gone is the party where the music and the people at the party mattered more than making money. As Electronic Dance Music has exploded in popularity over the last several years, so have crowds and ticket prices along with it. In the beginning, events were held in underground, often intimate venues. It was about the music, and it was about each other.
Noise Complaint is taking it back to its roots, bringing the people quality, dance floor focused house and techno all while pushing that party-don't-stop vibe that everyone loves. We're bringing in huge talent – DJs and producers that are well known and respected but that we also personally vibe with. We're doing this at a small price, and in an intimate space. It's about the music for us, it's about the party and the vibe and the memories and friends you will make. Every Noise Complaint should be the best party you've been to since well, the last Noise Complaint.
We're more than just a party, we're a movement. Join us 2nd Fridays at Kremwerk and become part of the family.
(Visited 1 times, 1 visits today)
Related Events