Noise Complaint ft. Dillon Nathaniel
January 10, 2020 @ 10:00 pm

-

3:00 am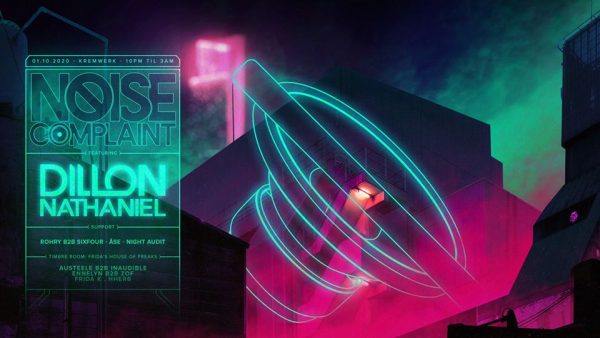 Noise Complaint and the Kremwerk/Timbre Room Complex are proud to present, two rooms of thoughtfully curated music featuring:
😈 DILLON NATHANIEL 😈
www.dillonnathaniel.com
www.facebook.com/dillonnathanielmusic
www.instagram.com/dillonnathaniel
www.twitter.com/DillonNathaniel
www.soundcloud.com/dillonnathaniel
A technical whizz in the studio and a modern house music connoisseur, Dillon Nathaniel has been establishing his talent across the US and beyond. His thick grooves and quirky soundscape has even caught the attention of Solardo, A-Trak, Idris Elba, Chris Lake, Mark Knight and more whilst spilling on to the crossover circuit with impressive support from BBC Radio 1 and Rinse FM.
While it may seem like this young house technician has seen a quick rise, his roots run deep. The former audio engineer and gear junkie found his footing in music at an early age as a vocalist and guitar player. His father hoped to impress upon him a strong emphasis in dance music exposing the budding musician to the likes of Carl Cox and Sasha on road trips from the age of 8. He eventually brought Dillon to EDC at the age of 16. It was this that provided the ultimate inspiration to pursue a career in dance music.
With an ability to work multiple sub genres flawlessly, Dillon Nathaniel's versatile productions have landed him releases on a variety of labels including Sola, 7Wallace, Toolroom, Big Beat, This Ain't Bristol, Box of Cats, Insomniac, and many others.
2019 has shaped up to be Dillon's best year yet. Starting off with his own headline Australian tour and quickly bringing that momentum to the US with key festival performances at CRSSD in San Diego, AMF's Friendship Maiden Voyage, Coachella's Heineken House, and EDC Las Vegas (his self renowned biggest accomplishment to date). Between the extensive festival plays Dillon continues to perform at the most acclaimed dance venues across the US.
LOCAL SUPPORT FROM:
👬 ROHRY b2b SIX FOUR 👬
🧝🏻‍♀️ ÅSE 🧝🏻‍♀️
😎 NIGHT AUDIT 😎
———————————————-
UPSTAIRS IN THE TIMBRE ROOM
👽 FRIDA'S HOUSE OF FREAKS 👽
☠️ AuSteele b2b Inaudible ☠️
👯‍♀️ Ennelyn b2b Zof 👯‍♀️
🌹 Frida K 🌹
🌿 Hherb 🌿
———————————————
🎟 VERY LIMITED $10 TIER 1 Tickets available NOW 🎟
Ticket Prices:
$10 Tier 1
$15 Online Pre-Sale
$20 Day of Show @ Door
21+
—
🔇 ABOUT NOISE COMPLAINT 🔇
Gone is the party where the music and the people at the party mattered more than making money. As Electronic Dance Music has exploded in popularity over the last several years, so have crowds and ticket prices along with it. In the beginning, events were held in underground, often intimate venues. It was about the music, and it was about each other.
Noise Complaint is taking it back to its roots, bringing the people quality, dance floor focused house and techno all while pushing that party-don't-stop vibe that everyone loves. We're bringing in huge talent – DJs and producers that are well known and respected but that we also personally vibe with. We're doing this at a small price, and in an intimate space. It's about the music for us, it's about the party and the vibe and the memories and friends you will make. Every Noise Complaint should be the best party you've been to since well, the last Noise Complaint.
We're more than just a party, we're a movement.
Join us 2nd Fridays at Kremwerk and become part of the family.
Related Events