Odes to Lithium: Shira Erlichman in Conversation with Tara Hardy
November 16, 2019 @ 7:00 pm

-

9:00 pm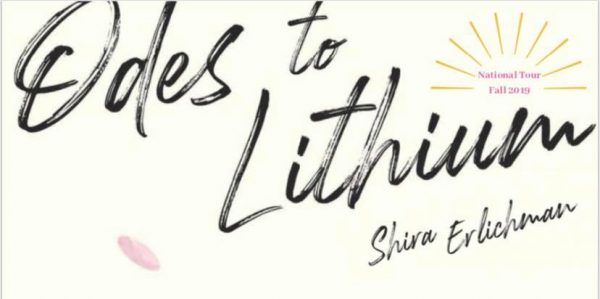 In this remarkable debut, Shira Erlichman pens a love letter to Lithium, her medication for Bipolar Disorder. With inventiveness, compassion, and humor, she thrusts us into a world of
unconventional praise. From an unexpected encounter with her grandmother's ghost, to a bubble bath with Bjӧrk, to her plumber's confession that he, too, has Bipolar, Erlichman buoyantly topples stigma against the mentally ill. These are necessary odes to self-acceptance, resilience, and the jagged path toward healing. With startling language, and accompanied by her bold drawings and collages,she gives us a sparkling, original view into what makes us human.
As a result of the critical success of My, My, My, My, My Tara is giving readings and workshops, all of which make space for more conversation about the impact of trauma on our bodies. Her memoir-in-progress examines the parallel between having a childhood in which she had to be hyper-vigilant and the subsequent physical responses. Additionally, Tara is finishing a book about artistic development called Healing the Artistic Wound, which links trauma theory to artistic development theory and outlines strategies for decreasing self-sabotage.
Shira Erlichman is a writer, visual artist, and musician. A three-time Pushcart Prize nominee, her work has been featured in the Huffington Post, BuzzFeed Reader, Nomadic Press, the Rumpus and PBS NewsHour's Poetry Series, among others.
Tara Hardy is a working class, Queer, Femme, chronically ill writer, and founder of Bent, a writing institute for LGBTQ people in Seattle. Her most recent book of poems, My, My, My, My, My, won a 2017 Washington State Book Award, and explores the links between childhood trauma and chronic illness. She is a former Hugo House Writer in Residence, Seattle Poet Populist, and Hedgebrook alumna. She teaches at Richard Hugo House, Path With Art and Evergreen University.
Related Events