Overcoming Adversity: A QTPOC Discussion
July 19, 2017 @ 2:00 pm

-

3:00 pm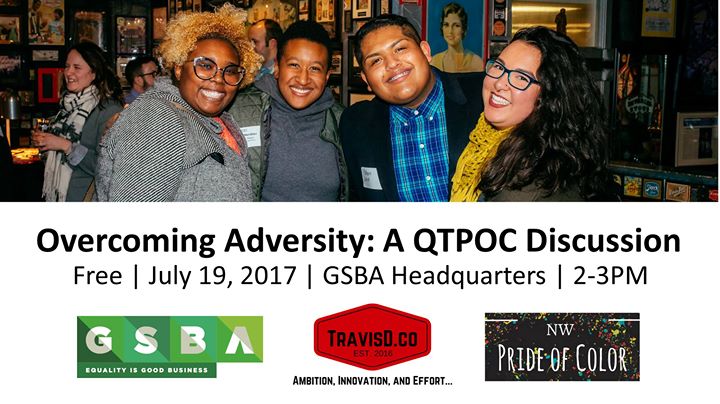 Overcoming Adversity: A QTPOC Discussion
Date: July 19, 2017
Time: 2:00-3:00pm
Location: GSBA Headquarters, 400 East Pine Street, Ste 322 Seattle 98122
Cost: FREE
Presenter: Travis Daigle, http://TravisD.co
Please join GSBA – Greater Seattle Business Association, NW Pride of Color, and Travis Daigle for an afternoon discussion on issues faced by the QTPOC community and how to transform adversity into empowerment.
Description:
"Recently, Charleena Lyles, a Black woman living in Seattle was shot and killed by police officers after she called to report a potential burglary attempt. In recent years the media has been filled with the news of the unfortunate deaths of minorities killed by police. As a black man, I've found myself anxious at times. Wondering will it be me next. How does one remain true to who they are, in an environment that, at times, is caustic to that individual? How are we to navigate the seemingly built in adversity associated with being a certain race, gender, sexual orientation, or economic status?
I think that it begins with actively engaging the process of Character Development. Daily, making the choice to respond to pain, suffering, and adversity with a level of self control, grace and humility. As people we stand on the errors and advancements of previous generations. We don't get anywhere as individuals. We don't ask for the curses we endure and we don't earn the many blessings that we enjoy (Especially in American Society). We can't control how other people treat us or the cards we've been dealt in life but we can control how we respond. As people of color or queer people of color, challenge is inherent but how we respond to that challenge is what will birth the things hidden deep down in us.
Adversity exposes the core of a person. In my opinion, adversity represents the opportunity to embody strength in the midst of fear, anxiety, loneliness, and depression. It represents the opportunity to learn to govern our emotions and become more rooted in our principles. Increasing our ability to positively influence the world around us." —Travis Daigle
Goals:
Fostering a mentality that:
-Views adversity as an opportunity for growth
-Takes full advantage of the smallest blessings
About the Presenter
Travis Daigle is a Personal Development Coach and Motivational Speaker. Fueled by personal experiences that include overcoming childhood obesity, working as an Engineer in Corporate America, and Deploying to Afghanistan as an Army Special Forces Medic, Travis brings a message filled wisdom and inspiration. He believes that every human being has a purpose… unique and specific. In finding that purpose, he emphasizes the need to do the basics of life, exceptionally well, and the need to execute every day with an unyielding gritty determination. "I'm Passionate about seeing people Passionate!"
Accessibilty
The 400 East Pine building has a wheelchair accessible entrance and elevators to the GSBA office located on the third floor. There is street parking surrounding the building and an alley where vans can park to unload wheelchair users and their chairs. The bathrooms are accessible to wheelchair users. Please contact us by Monday, July 18th, should you need accessibility accommodations.
Restrooms
Restrooms are gendered and not guaranteed scent-free, but GSBA will provide scent-free soap.
This event is part of NW Pride of Color, a collection of events between Friday July 14th to Sunday July 30th, that have been created by and designed for the LGBTQ PoC communities of the Pacific Northwest. Follow the NW Pride of Color Facebook page, to get up-to-date information on each event and more about the initiative. Go to https://www.facebook.com/nwprideofcolor.
Related Events