People Music Presents // ALIX PEREZ at Re-bar
November 23, 2019 @ 10:00 pm

-

2:30 am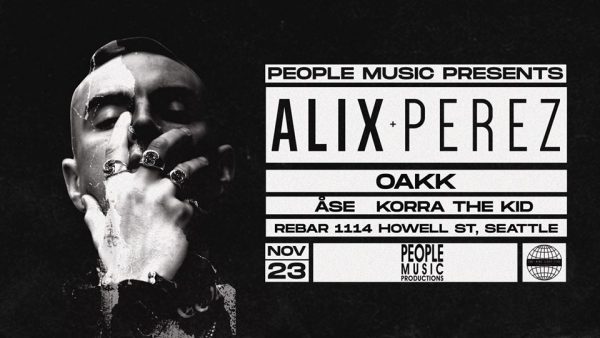 People Music Presents
ALIX PEREZ
Oakk
w Åse , Korra The Kid
ALIX PEREZ
London, UK
1985.co.uk
soundcloud.com/alixperez
mixcloud.com/alixperez
Belgian born Alix Depauw is the face behind production moniker Alix Perez, and Shades (w/Eprom). Alix released his debut album "1984" to critical acclaim via the much revered imprint Shogun Audio in 2009. Since then he has released a 2nd studio album, multiple EP's, launched a label and has collaborated with the foremost names in dance and electronic music including; Noisia, Foreign Beggars, dBridge, EPROM and many more. Following the release of his 2nd album Chroma Chords in 2013, Alix was asked to do a BBC Radio 1 Essential Mix, which was nominated for essential mix of the year. After this album Alix went onto to release EP's on Exit Records before a collaborative EP with Ivy Lab on Critical Music.
In 2016 Alix launched his own imprint; 1985 Music. Now on the 15th record the label has gone from strength to strength releasing artists such as; Ivy Lab, Halogenix, Skeptical, Eprom, Shades, along with Monty and Submarine. 1985 Music promotes multiple club nights globally. Highlights include festival stages at Outlook and Shambhala. Almost every release on the label has found its way to number 1 in the Beatport charts, and in 2017 the label won 'Best New Label' at the Drum and Bass Arena Awards (by public vote).
In 2015 whilst on a trip to LA, Alix first collaborated with Portland artist Eprom and formed Shades. Shades have since released 4 EP's and full length EP which came out on Zed's Dead's imprint; Deadbeats this year. As duo they have toured globally and received much critical acclaim. 2019 will see further releases along with an impressive North American festival run of dates.
Between his solo project as Alix Perez, Shades (w/ Eprom), his record label, and playing 100 shows a year, there is much to expect from this highly prolific artist.
Territories Performed in: Belgium, Switzerland, France, Germany, UK, Portugal, Slovakia, Austria, Poland, Croatia, Netherlands, India, Canada, USA, China, Indonesia, Russia, Australia, New Zealand.
Festivals Highlights: HARD LA, Bass Rush, Outlook (Croatia), Dimensions, Bestival (UK), Dour, Urban Art Forms (Austria), Tomorrowland (Belgium), Summerlands (New Zealand), Northern Bass (New Zealand), Neopop (Portugal), Springfestival (Austria), Roskilde, Pitch Festival, Pukkelpop, Shambhala (Canada), Basscoast, Origin (Australia)
facebook.com/alixperezmusic
twitter.com/alixperez
instagram.com/alixperez1985
OAKK
Calgary, Canada
soundcloud.com/oakkmusic
oakkmusic.bandcamp.com
OAKK produces dynamic, eclectic, and infectious bass music that is impossible to resist. Based out of Calgary, Canada, OAKK works closely with the illustrious Hifi Club as a resident DJ and curator with his monthly club night "New Wave". His high energy DJ sets display his commitment to diversity and flow, while telling a cohesive story that covers a vast musical range and is nothing short of striking.
Musically speaking, OAKK's catalogue is melodically beautiful and highly energetic incorporating his respect for the cultures and communities that have influenced the musical landscape of the present. Coming off the release of his 'Hysterical EP' on 'Aufect
Recordings' comes a collaboration with Rider Shafique entitled 'Growing'. An apt title considering OAKK's progression in 2018. The 'Growing EP' is set to open up 2019 on Hong Kong's underground bass music label 'Unchained Recordings', alongside two other unique and genre-defying tracks.
With frequent performances at premier festivals such as Shambhala, Bass Coast and Sled Island, the next step for OAKK is to expand into new territory and share his sound around the globe. The versatility of his productions and DJ sets offer an unpredictable nature that never compromises the clarity of his vision. This intense passion for music and community has brought OAKK to his current stage and given him the tools needed to propel his creative endeavors into the future.
facebook.com/oakkmusic
twitter.com/oakkmusic
instagram.com/oakkmusic
Åse
People Music resident – Seattle, WA
soundcloud.com/alyssamariehovde
Kora The Kid
Bellingham, WA
https://soundcloud.com/korrathekid
Re-bar 1114 Howell Seattle WA 98101
www.rebarseattle.com
ADA Accessible
Related Events