People Music Presents // Stylust Activated Tour w Toadface
February 28, 2020 @ 10:00 pm

-

2:30 am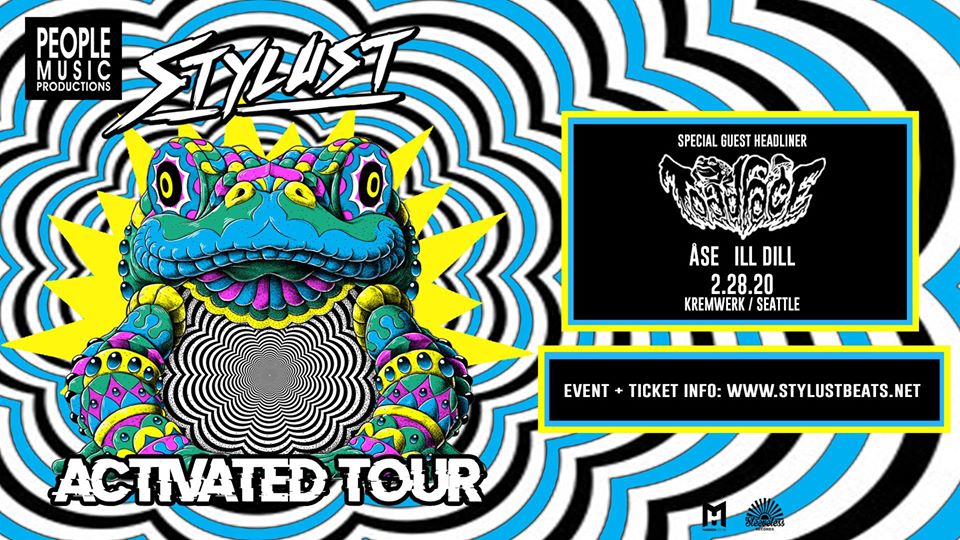 People Music Presents
Stylust Activated Tour w Toadface
Åse, iLL DiLL
Visual Art by GHØST GIRL (just added)
21+ w valid ID, $15 early bird, $18-20 adv, $25 door.
Advance tickets Sold Out, very limited number of tickets available at the door for $25 (cash or card) come early!
Stylust
stylustbeats.net
soundcloud.com/ stylustbeats
twitter.com/ stylustbeats
instagram.com/ stylustbeats
A longtime skateboarder and hip hop devotee, Geoff "Stylust" Reich has always been a rebel with a passion for his art form, so it's no surprise that this Canadian DJ/producer's talent for fusing rap hooks and heavy bass with electronic music has earned him the rep as a creative renegade carving his own path.
Touring as Stylust, Geoff has played all over the United States, Canada, and Europe, appearing at major festivals like Shambhala, Coachella, Outlook, LIB, Envision and BassCenter to name a few. Stylust's uncanny ability to melt multiple influences and genres has led to music that's reached millions of listeners, earning him exciting releases and collabs with artists like Bassnectar, Minnesota, Truth and many others. With a bass-heavy yet timeless sound, Stylust electrifies dancefloors with his impeccable mixing and high energy stage presence.
Toadface
soundcloud.com/toadface
twitter.com/toadinyoface
instagram.com/toadface7
With his unique production style which flawlessly fuses elements of trap and dubstep together with amphibious grooves with their own twist, Toadface has been developing a sound he can truly call his own. Producing for the last 9 years and touring extensively for the last 4, Todd Holler is no stranger to the common toad. Coming fresh off of his nation-wide headlining tour named after his breakout Wakaan album titled "Bugs for Breakfast" Toadface continues to captivate listeners with every hop he takes.
Åse
People Music Resident – SEA
soundcloud.com/alyssamariehovde
iLL DiLL
Bad Luck Club – SEA
soundcloud.com/illdill206
GHØST GIRL
Visual Artist – SEA
People Music
People Music is a Seattle concert production company working hard to bring good music to good people… We do bass music shows since 2009. For more info on upcoming People Music events follow us on Facebook, Instagram or Twitter:
facebook.com/PeopleMusicProductions
instagram.com/people_music
twitter.com/people_music
People Music contact info:
people.music.info@gmail.com
……………………………………
Kremwerk strives to be a safe space. The following actions or display of behavior will not be tolerated: bigotry, racism, sexism, transphobia, homophobia, misogyny, ableism, as well as the disrespect of the rules of consent. Our staff is here to support you.
Kremwerk is currently not an ADA accessible space. Club entry is through a flight of 12 metal stairs, with two small steps leading into the main part of the club. We have 2 restrooms with a total of 3 stalls and 1 urinal, all gender neutral. If you would like access to single-stall restrooms, please don't hesitate to ask our door & security to allow entry upstairs into Timbre Room, which has 2 single-stall gender-neutral restrooms.
For any questions about safety & accessibility, please email info@kremwerk.com
Related Events