Portland: Lady Bunny in "Trans-Jester!" – One Night Only!
May 25, 2017 @ 7:00 pm

-

10:00 pm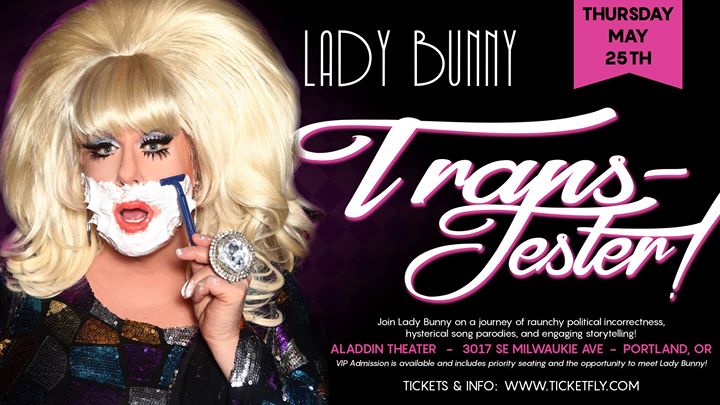 Qurb Magazine Proudly Presents – LADY BUNNY in "TRANS-JESTER!"…her highly acclaimed one-woman show, a journey of raunchy political incorrectness, hysterical song parodies and engaging storytelling.
THE ALADDIN THEATER
Thursday May 25th @ 7:00pm
WITH SPECIAL GUEST HOST:
Portland's Premier Drag Clown…..CARLA ROSSI (www.thecarlarossi.com)
DON'T MISS THE CRITICALLY ACCLAIMED TRANS-JESTER!
In addition to new parodies which re-work selections from Adele, Rent and Bruno Mars to hilarious, effect punctuated by zany Laugh-In style zingers, Bunny has widened her repertoire to include some actually insightful social commentary. (Well, she thinks it's insightful, anyway.) Trashing the current overemphasis on political correctness, Bunny breaks down some of the latest buzzwords that we're all supposed to remember for every for every occasion as we "evolve." Sometimes, Bunny feels, that we're actually evolving away from common sense! Take the new name for our community–LGBTIA. Does anyone even know what that means?
Please note: This show is raunchy. Not politically correct by definition–that's the whole point. So if that's not your cup of tea, you should honestly skip it. Or prepare to grab a drink and laugh, cheer and possibly even be challenged by a salty old kook who isn't afraid to express herself from a viewpoint which is often unique.
Trans-Jester! is written by Lady Bunny and Facebook sensation Beryl Mendelbaum.
***PRAISE FOR TRANS-JESTER!***
Michael Musto for Out.com: "Long running drag star Lady Bunny is currently doing the most screamingly, gratifyingly, crap-your-pants funny show in town. Upstairs at the Stonewallwhich was always a riotBunny is appearing in Trans-Jester, poking merciless fun at pc normatives. She spins and shimmers in amazing voice. The show is all like that–raunchy and eye opening, fetidly appealing yet thought provoking."
John Cameron Mitchell: "A scream for sanity from the nastiest, most big-hearted comic performer around."
Huffington Post Gay Voices: "A gag-worthy show you can't miss."
TICKETS: $15-$40
With the purchase of a VIP ticket, audience members are given priority seating (front rows center section), as well as attendance to the meet and greet with the one and only Lady Bunny herself, which takes place immediately following the show. These exclusive and limited VIP tickets are in short order, so be sure to get them before they sell out.