Seattle PrideFest, the producers of the city's annual LGBTQ+ pride festivals that happen on the last weekend of June (and NOT the Seattle Parade people and NOT the Capitol Hill Pride group who got in trouble last year for some racially insensitive remarks) have announced headliners for the big Pride Sunday festival to happen at Seattle Center on June 26, 2022.
Coming back to a traditional last weekend in June, live and in-person series of events after being canceled for two years due to Covid-19, this year's PrideFest theme is very appropriate…."We're Still Here" which, in their words: celebrates the resiliency of the LGBTQIA+ community and reaffirms our communities' fight for a more equitable and inclusive world."
PrideFest did stage virtual online events in 2020 and in 2021 the group produced a live street festival on Capitol Hill's Broadway in September. This year will be their first "back to normal" production since 2019 with the group producing festival events back on Capitol Hill for Pride Saturday, June 25th, and then at Seattle Center on Sunday after the city's Pride Parade (produced by Seattle Pride/Seattle Out and Proud).
The headliners for 2022 include an up and coming young singer, Jake Wesley Rogers who has received a lot of media attention in the last six months with big write ups in the press and appearances on Ellen and other national TV shows and glowing recommendations from other stars like Elton John. We gushed about the rising star just a few months ago in a post on SGS: https://seattlegayscene.com/2021/10/new-music-we-looooove-pluto-by-the-adorably-talented-jake-wesley-rogers/
For fans of HBO Max's hit show Legendary, the competitive ball culture show that is entering its third season, the appearance of stars from that show will be a treat for PrideFest attendees. The Music Supervisors and cast from the show, the husband and wife duo of "Purple Crush" (including Isla Ebony), will headline along with "King of the West Coast" Enyce. PLUS, special guests for a huge West Coast style Ball Showcase. Purple Crush have performed at PrideFest in the past; the adorable couple are Seattle area natives!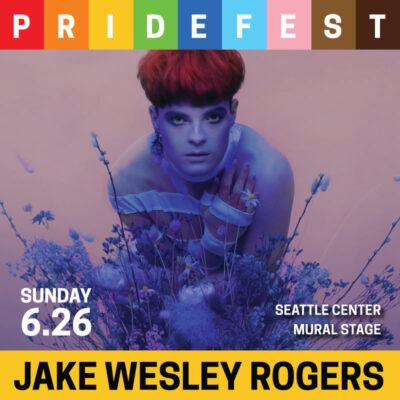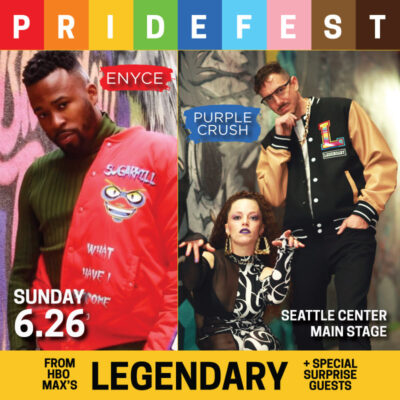 There'll also be RuPaul Drag Race stars in the house for Seattle PrideFest 2022 to join the hordes of already announced drag divas appearing at other events all over the city during Pride Weekend. From Season Nine of RPDR, AJA will perform as well as Monét X Change from Season Ten and the co-winner of RPDR: All-Stars Season Four.
AND, superstar DJ Brynn Taylor will also headline on the DJ Stage at Sunday PrideFest.
More names to perform will be announced in the weeks ahead.
Here would be the point for me to include a link to buy tickets but….SEATTLE PRIDEFEST IS A FREE EVENT!!!