QiQi Cabaret – Vol. 2
November 9, 2019 @ 10:00 pm

-

2:00 am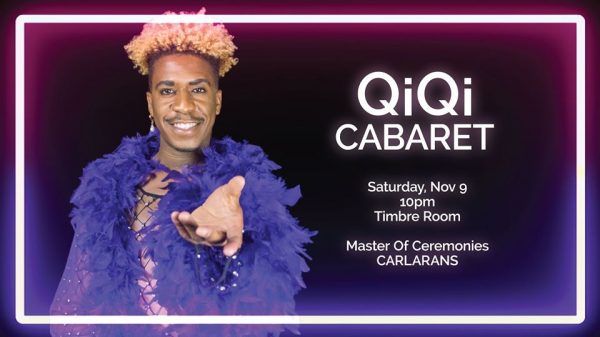 ✨YOUR MONTHLY QTPoC CABARET!✨
QiQi Cabaret is a night of multi-genre performance art, severe fashion, house heavy beats, and a chance to see and be seen with family.
The evening consists of artist performances throughout the night, healing through hip-hop and house music by our Guest DJ, and an Xtra special late night performance by our Super Special Guest!
Curated photo booth by the amazingly talented collective 🔥Boyhood Society!🔥
Category is: CYBER RENAISSANCE
✨ Master of Ceremonies ✨
CarLarans
✨ Featured Artists ✨
Kylie Mooncakes
Da Qween
✨ Resident Act ✨
LÜCHi
✨ DJ PAPI.WAV ✨
✨ Special Guest ✨
Amora Dior Black
Doors: 10 PM
Opening Number: 10.45 PM
$10 Advance
$12 Door
OR
$18 Advance Combo Ticket w/ Cucci's Critter Barn‼️
THIS IS A QUEER and POC CENTERED EVENT. Allies are Welcome.
– – – – – – – – – –
ACCESSIBILITY
Timbre Room is accessible, but can be difficult to navigate with a packed house. There are two accessible bathrooms located on the second level next to the bar.
For those interested, advanced seating arrangements can be made. Please message us for details.
– – – – – – – – – –
The Kremwerk + Timbre Room Complex strives to be a safe space. The following actions or display of behavior will not be tolerated: bigotry, racism, sexism, transphobia, misogyny, ableism, as well as the disrespect of the rules of consent. Our staff is here to support you.
Related Events