Qtbipoc snack n' chat – lake fun!
June 29, 2019 @ 12:00 pm

-

5:00 pm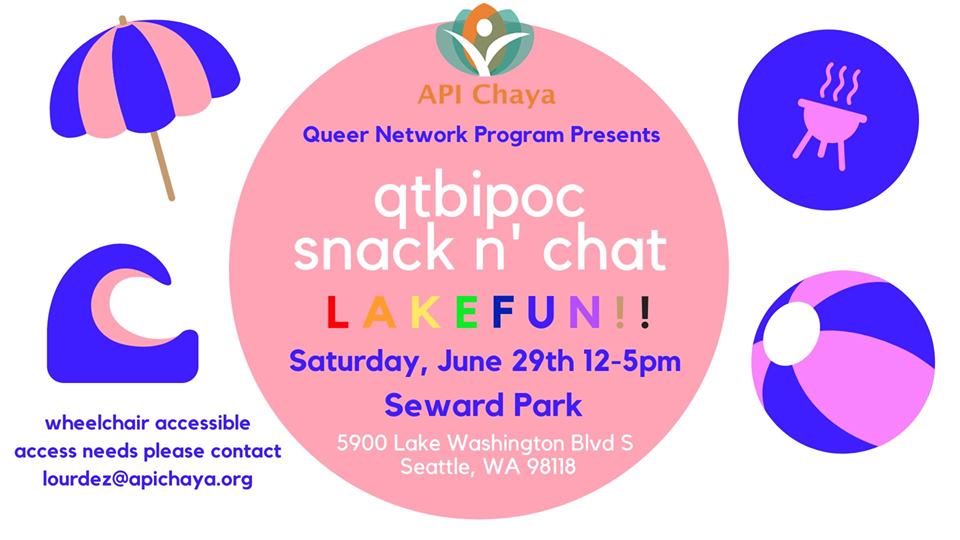 LAKE TIME FUN! Come hang, float and eat snacks with the Queer Network Program! This will be a family, kiddo, elders intergenerational space!
This event is for Two Spirit, Trans, Gender diverse, Queer, Black, Indigenous, People of color. *please respect this event is for QTBIPOC*
Saturday June 29 from 12-5pm
Seward Park – Lakeside
5900 Lake Washington Blvd S, Seattle, WA 98118
Please RSVP on facebook or to Lourdez@apichaya.org, so we know how many folks to expect. 🙂
WHAT TO BRING:
– your awesome self! floaties, favorite snacks, blankets, towels, books, games if ya want!
– we will have food too (vegetarian and vegan options too!)
ACCESSIBILITY INFORMATION:
Need ASL interpretation? Need Childcare? Please contact Lourdez by Thursday June 20th if you will be attending and want these services.
CHILDCARE + CREATIVE STATIONS:
FOCS – Families Of Color Seattle will be supporting with childcare and creative, interactive space for a fun time! (art, toys, books, face-painting, interactive activities)
INTERPRETERS: We have two QTBIPOC ASL interpreters booked for this event. We ask that all participants submit requests for these services to Lourdez@apichaya.org by June 20th.
WHEEL CHAIR ACCESSIBLE:The park is wheelchair accessible. With sidewalks from the parking lot that lead to grassy, leveled area where we will be located
SCENT-FREE: Seward Park is a public park, so we cannot guarantee a fragrance-free space, we are asking participants who will be present to be scent-free and avoid wearing perfumes and other fragrances to reduce the risk of exposure to our community members with chemical sensitivities. More information about why and how to be scent-free is available at http://www.peggymunson.com/mcs/fragrancefree.html and http://eastbaymeditation.org/accessibility/PDF/MCS-ACCESSIBILITY-BASICS.pdf
BATHROOMS
Bathrooms are located south of the location we will be at Seward Park . Bathrooms are gendered and have scented soaps, one wheelchair accessible bathroom with bar. We are asking participants to please use the fragrance-free soaps API Chaya will provide in the restrooms.
We'd like to work with you to make this and future events as accessible as possible. Please let us know your access needs by emailing Lourdez@apichaya.org, and we'll work with you to make sure our events can fit your needs.
Know Your Rights – Fair Work Center pamphlets will be available
************************************************************
API Chaya empowers survivors of gender-based violence and human trafficking to gain safety, connection, and wellness. We build power by educating and mobilizing South Asian, Asian, Pacific Islander, and all immigrant communities to end exploitation, creating a world where all people can heal and thrive. More info at www.apichaya.org
RSVP, questions, comments or accommodation needs?
Email Lourdez@apichaya.org
See Less
Related Events