Queer Geek! Extra Life Marathon 2021
November 6, 2021 @ 10:00 am

-

November 7, 2021 @ 10:00 am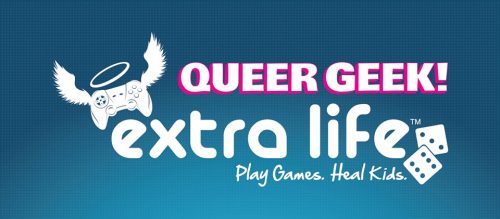 The Extra Life Marathon is coming up, where we game for 24 hours to raise money for Seattle Children's Hospital. Typically, we are able to raise a few thousand dollars as a team – we've started with $3000 goal but can always raise it!
We are back to doing an in-person event!
Please note this event replaces our typical monthly board game day at Phoenix in November.
As per our usual Phoenix events, we will follow store policies around vaccinations and masks. At present, you must be prepared to show proof of vaccinations and masks must be worn in the store, and attendance is capped at 32-36. Drinks are allowed (straws preferred) but food is not currently. If anything changes closer to the event, we will update this space!
We do this event from 10AM-10PM on Saturday and Sunday. This is very flexible – while we encourage people to attend the whole time, it is on the honor system for team members to fit in their 24 hours and can certainly attend when you are able.
If you are not a team member raising money, you are still welcome to join at any time to play games, but we would request you donate to Extra Life (however small the amount) if you are able.
Of course, if you want to participate virtually, you are welcome to join our team and do the gaming on your own, but we are thrilled to have an in-person option back this year. There are no regional limitations for participating virtually, and virtual participants can fit in their gaming anytime convenient for them in the calendar year.
Let me know if you have any questions and feel free to join the team! (Please note: if you want to join the team, you MUST join via the link above.)
We'll be providing (and highly recommend wearing) nametag stickers that indicate gender pronouns. We want this to be a comfortable environment for everyone, so please respect people's listed or stated gender pronouns.
Watch this space for more info as we have it!
Related Events