Queer & Trans Clothing Exchange–Now collecting donations!
May 3, 2015 @ 12:00 pm

-

4:00 pm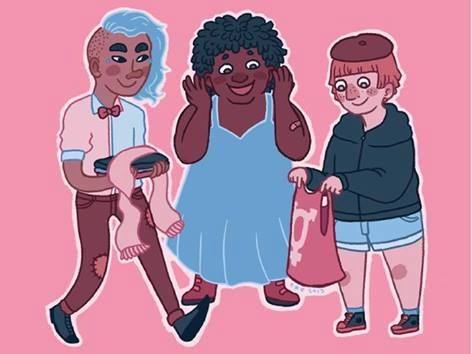 SUNDAY, MAY 3 // 12-4 PM // Gay City Health Project // Calamus Auditorium
All items $1 // No one turned away for lack of funds
Now collecting clothing donations, please drop off items by May 1! Share this event, the more donations we receive, the better the selection!
Seeking CLEAN clothing of ALL SIZES AND STYLES, with extra need for:
-Professional clothing
-Weather durable clothing
-Large feminine clothing and shoes
-Small masculine clothing and shoes
-Padded Bras
-Binders
-Unused makeup
-Costume jewelry
-New socks and underwear
-Activewear
Drop-Off Locations– More coming soon…
Gay City Health Project
(in the Library and in the Wellness Center)
517 E Pike St, Seattle, WA 98122
UW Q Center
Husky Union Building Rm. 315
4001 Stevens Way NE, Seattle, WA 98195
Drop-Off Events:
Glitter Sale 2.0
April 12
Tashiro Kaplan Artist Lofts
115 Prefontaine Pl S, Seattle, WA 98104
April Debauchery!– $5 entry with clothing donation!
April 16
Neighbours Seattle
1509 Broadway, Seattle, WA 98122
Girl Bye
April 18
Kremwerk
1809 Minor Ave #10, Seattle, WA 98101
TRANSFABULOUS! TRANS & QUEER NIGHT~ THE LADY B / MAL DE FLEUR
April 22
Kremwerk
1809 Minor Ave #10, Seattle, WA 98101
Kiss Off
April 25
Kremwerk
1809 Minor Ave #10, Seattle, WA 98101
Run a business, organization, or event? Contact us about hosting collections!
Want to help even more? Share this event, collect clothing from your friends and neighbors (yard sales are a great place to look!), or contact us for volunteer opportunities!
—————————————————————————–
Gay City is working to compile a fuller description of their accessibility. They are considered ADA, but the doors are not automatic, and to go from the auditorium to the bathroom means either leaving and then entering through another door or two small steps. All the bathrooms are unisex. They are not scent free, but we encourage attendees to not wear scents or smoke before entering. Though we highly encourage clean donations, we can not guarantee the clothing to be scent/chemical free. Please contact us with any questions.
–Queer & Trans Clothing Exchange Seattle
—————————————————————————-
The Seattle Queer and Trans Clothing Exchange is a biannual event held at Gay City in Capitol Hill open to all members of the LGBTQ community. We aim to provide a safe, welcoming environment to get gently used clothing at low or no cost.
While there are current Trans clothing exchanges, the reach of their collection efforts can be very limited. It can be especially difficult to bring in a wide range of sizes and styles with a limited donation pool.
Any leftover items from the exchange will be stored for future events or disseminated amongst pre-existing groups and other local organizations that collect clothing for their clients. All money raised will be used to ensure the continuation of the event, with any extra being directed to organizations working with the Seattle Trans community.
Related Events