Re-bar 30th Anniv. Party – Sherry Vine, Joey Arias, Riz Rollins
February 22, 2020 @ 8:00 pm

-

1:30 am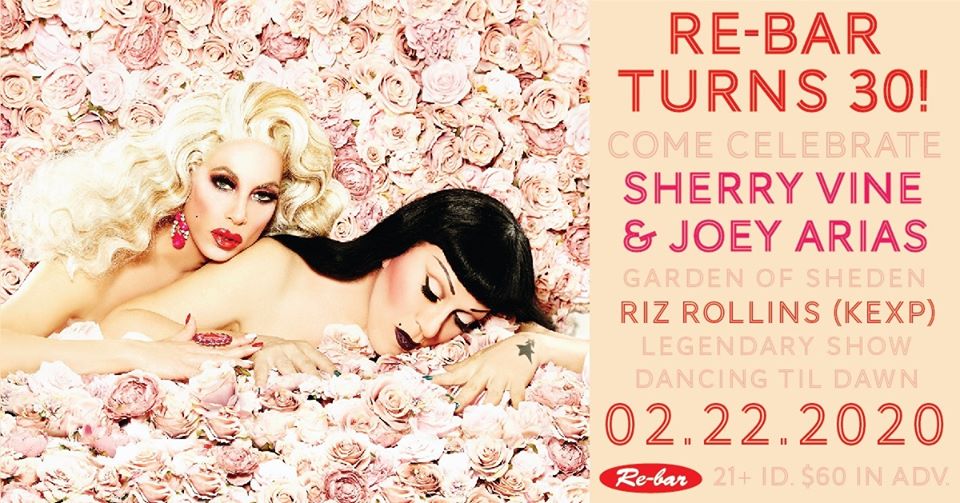 Hello Re-bar Family! Join us to be a part of Seattle history. For our 30th Anniversary party we want to go bigger than ever before. Celebrate as we enter our dirty 30s with a special show to top all shows. Two legends in one show! Sherry Vine and Joey Arias return to Re-bar with 2 solo performances and 1 duo as The Garden of Sheden.
Joining them is Seattle icon the Reverend Doctor Riz Rollins (KEXP). .
International drag darlings, Joey Arias (star of Zumanity and Arias With A Twist) and Sherry Vine (star of the variety show, She's Living For This and YouTube sensation), present their all new, all live fantasy for 2020 – Garden of She-den. Joey invited Sherry to join her at the legendary NYC hotspot, Bar d'O in 1993 and since then this dynamic duo have toured the world with their sold out, scandalous shows.The creators of StarLust, SINsation, Looking Back At The Future and Cherchez La Femme will now be turning it out in a sexy, over-the-top spectacle featuring original material, reinterpretations of classics, Joey's infamous Billie Holiday, Broadway, Rock and maybe one of Sherry's trashy parodies. Expect a few surprises and of course loads of laughs! These sisters in crime have dazzled crowds in Australia, Germany, Italy, Spain, Finland, Austria, Switzerland, Canada, all over the USA and even Estonia!
Riz Rollins- "Ive been a dj since i was um about ten. a record player, a spindle, metal for the big records, and this circular pyramid for records with the big holes. i am from chicago, but not the chicago, you're thinking of. i live in seattle, but not the setalle you're thinking of. i like rock, hip hop, soul, gospel, funk, but not the rock, hip hop, soul, gospel, funk you're thinking of. my moms played jazz, but not the kind of jazz you're thinking of. i only remember my dad liking, miles and sinatra. but then he left.i was in a gospel group in bible college, but not the kind of bible college you're thinking of. i bought records, because nobody seemed to know how.at least not the people i lived with.i' have played music on turntable, transistor radio, teevee, 8 tracks, cassettes, reels, cd's, usb's,. i've hummed whistled, sang hooted, hootered music, but maybe not the music you're thinking of, in bedrooms ( lots of bedrooms , more bedrooms than i can remember). basements, alleys, libraries, church basements ( but prolly not the kind of churches, you're thinking of ),barns, in the woods, in the desert, on the ocean , in cities, villages, and lots and lots of clubs. for as few as 2 and as many as thousands. all my life but when my best friend john suggested that i be a dj at a radio station for a living, i told him, 'i couldn't possibly, because i didn't have the skills to do something as joyful as that.and then, maybe 2 years later ,i joined a radio station that was almost.thirty years ago.i been there since. I love to eat and to kiss. Music is not my first second, or even 3rd biggest love. When I'm down I pray. When I'm up I pray too.
Words to live by:
A shy ho is a broke ho.
Life is sweet and then you die.
The greatest of these is love!
Thanks for listening and saying so,
love,
always,
riz"
Re-bar Seattle (est. 1990) 1114 Howell St Seattle WA 98101
www.rebarseattle.com
21+w/ID
ADA Accessible
Doors 7pm Show 8pm
$60 Adv. GA Seating
Very Limited $150 VIP tickets available in pairs only with 2 reserved front row seating, champagne bottle service, meet and greet with performers, photo opportunity, and early entry.
(Visited 1 times, 1 visits today)
Related Events