Re-bar pres SubPopular w/ Bruce Pavitt, Steve Turner, Sharlese
February 20, 2020 @ 9:00 pm

-

1:30 am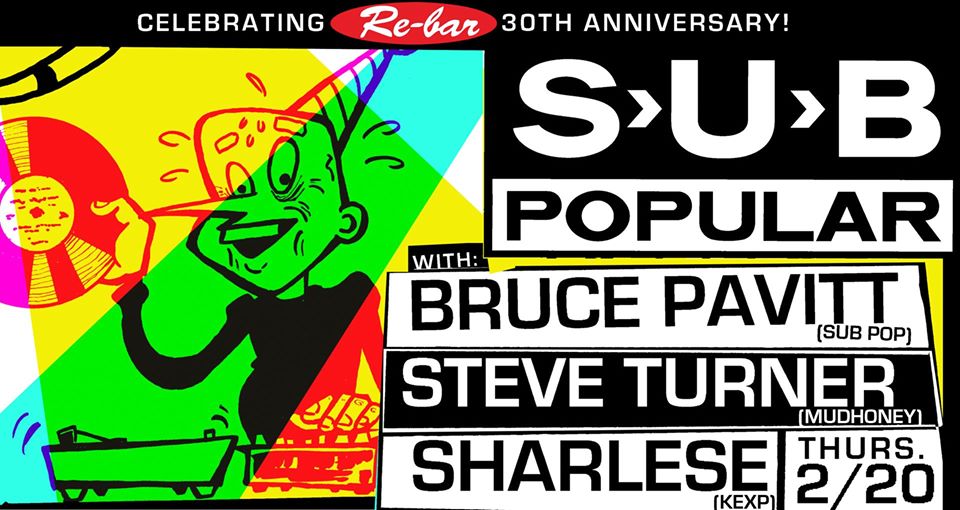 The infamous story of Nirvana getting kicked out of the Re-bar during their album release party for Nevermind in 1991 has been well documented. The venue is committed to providing raw art and cutting edge performance and music since then.
Join us in celebrating the Re-bar 30 Year Anniversary with a night of music from Pacific Northwest music icons Subpop founder Bruce Pavitt, Steve Turner from Mudhoney, and Sharlese host of Expansions on KEXP.
Bruce Pavitt is a cultural icon and founder of Seattle's Sub Pop record label. As an author, music historian and professional DJ, he is available for speaking engagements, independent consulting, and compelling DJ sets.
Bruce is the author of Experiencing Nirvana: Grunge in Europe, 1989, a photo journal documenting his travel experiences with Sub Pop bands in Europe, and SUB POP USA: The Subterranean Pop Music Anthology, 1980-1988, a compilation of his early Sub Pop zines and columns.
Turner was born in 1965 in Houston, Texas. His first band was called The Ducky Boys. The line up included future Pearl Jam member Stone Gossard. Turner later joined Mark Arm in Mr. Epp and the Calculations.
Turner was also the first guitarist in Green River which again featured Arm and Gossard, and also acquired the services of Jeff Ament (later Pearl Jam) on bass guitar. Arm and Turner started Mudhoney on New Year's Day, 1988. With Mudhoney, Turner recorded all their albums from Superfuzz Bigmuff in 1988 to Digital Garbage in 2018. Turner also has side projects such as The Thrown Ups, Monkeywrench, and The Fall Outs.
Sharlese began her radio career at Green River Community College in 2001 hosting their Northwest music focused show Local Motion on KGRG. She attained her Broadcasting Certificate from Green River, and was offered a job at Jones Radio Networks. There, she worked on Classic Country and Top 40 shows as a production assistant. While at Jones Radio, she was given a KEXP internship to work on the show Audioasis as an assistant to the host and booker. In 2009, She became an Audioasis producer, and in 2012, was promoted to host and an Events Producer at KEXP. Sharlese additionally works as yoga DJ, promotes events at clubs around town as False Prophet, is a member of the TUF collective, hosts Expansions, and currently serves as a member on the Seattle Music Commission.
Re-bar Seattle (est. 1990) 1114 Howell St Seattle WA 98101
www.rebarseattle.com
$10
21+w/ID
ADA Accessible
Related Events