SANCTUARY Returns to the Flesh! @ Timbre Room
October 6, 2021 @ 9:00 pm

-

1:00 am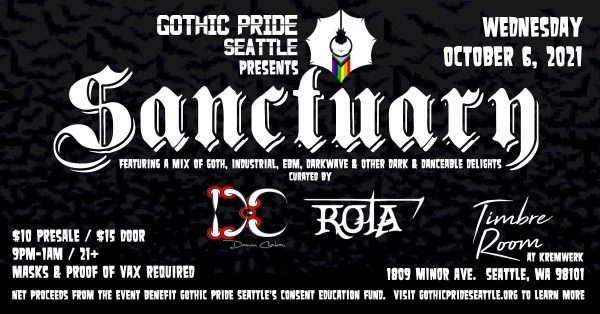 Gothic Pride Seattle's monthly fundraiser for consent education known as SANCTUARY is back LIVE in the flesh for the first time in a year and a half to the Timbre Room in the Kremwerk Complex! Net proceeds from the event will benefit our quarterly Consent Workshops as GPS believes that individuals in our community who want to learn about Consent, or become Consent Advocates, should have every opportunity to do so regardless of financial barriers
Expect to hear a variety of dark danceable delights ranging from the spookiest goth to the stompiest industrial and everything in between…from the latest releases and your old club favourites!
DJs:
DAEMON CHADEAU (Mercury at Machinewerks, Power Noise Movement Northwest)
ROTA (Jaded at Stage, Itsumono Gothic Non-Industrial)
Gothic Pride Seattle is an all-inclusive nonprofit 501(c)3 organization working to help strengthen and empower our diverse community through advocacy, education, social, and fundraising events. We strive to help make safe and lasting connections and alliances within and throughout the Seattle Gothic community, as well as in the greater Seattle area. For more information, visit 
http://www.gothicprideseattle.org
………………………………………
MASKS
Due to the Washington State Mask Mandate, masks are now required while one is not actively eating or drinking
SAFER SPACE
The following actions or displays of behavior will not be tolerated: bigotry, racism, sexism, transphobia, homophobia, misogyny, and ableism.
CONSENT
Consent is required when interacting with others. A person's choice of self-expression is not an invitation for non-consensual touching. Any form of harassment including leering, rude comments or touching will be dealt with, and anyone caught harassing other patrons will be given a lifetime ban from our club. Our staff is here to support you.
PHONES
For the sake of the vibe during dance parties, we ask that you avoid using your phones or taking photos anywhere on the dance floor. Feel free to use your phones on the patio.
………………………………………
To stay in the loop about upcoming events, ticket giveaways, and more, sign up for the Kremwerk + Timbre Room Complex mailing list!
http://www.kremwerk.com/
………………………………………
Timbre Room is ADA accessible with a ramp to the front door/bar area, and access to the back door/dance area through the patio area, and 2 accessible gender-neutral restrooms available. For any questions about safety & accessibility, please email info@kremwerk.com.
Related Events