Saturday & Sunday – Public Huge Book Sale 2018
March 18, 2018 @ 11:00 am

-

4:00 pm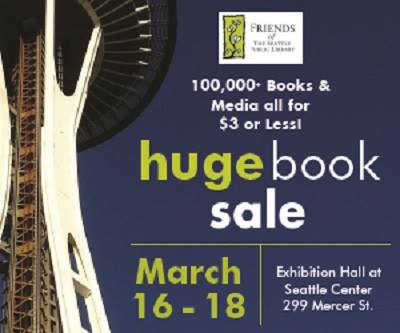 Public Huge Book Sale 2018
Open to everyone!
Exhibition Hall at the Seattle Center
299 Mercer St., Seattle
http://www.friendsofspl.org/book-sales/#upcoming-sales
**PLEASE NOTE: Due to the St. Patrick's Day Dash, Mercer St. between 1st Ave. N & 5th Ave. N will be CLOSED Saturday morning. Expect delays until 11 a.m.!!**
It's not just big, it's huge! Over 100,000 items will be for sale with over 50 categories of nonfiction including art, cookbooks, crafts, gardening, history, music, performing arts, pets, nature and travel.
We have an extensive selection of fiction including science fiction, graphic novel, classics, and short stories. Our children's selection covers every reading level you can imagine plus several special categories such as folk & fairy tales, history and nature.
We'll have over 15 languages represented in our foreign languages section plus a vast selection of DVDs, CDs, audio books and records. Don't miss it!
PRICING:
Children's Books – $1
Single DVDs, Audio Books and Records – $1
TV Seasons/Series DVDs – $2
All Paperback & Hardback Fiction & Nonfiction Books- $2
Old/rare books – $3
Public Hours
Saturday, March 17: 9 a.m. – 5 p.m.
Sunday, March 18: 11 a.m. – 4 p.m.
(Free admission for everyone)
Do you want to get a chance to get into the Book Sale a day earlier? Then become a member of the Friends and attend the Members Huge Book Sale 2018 on March 16th from 6:30 p.m. to 9:30 p.m. http://www.friendsofspl.org/membership/
Cash, debit and credit cards are accepted forms of payment at the sale.
Contact: (206) 682-7567 or email booksale@friendsofspl.org