SAVE the Koalas – a 12 Hour Fundraiser!
January 26, 2020 @ 12:00 pm

-

12:00 am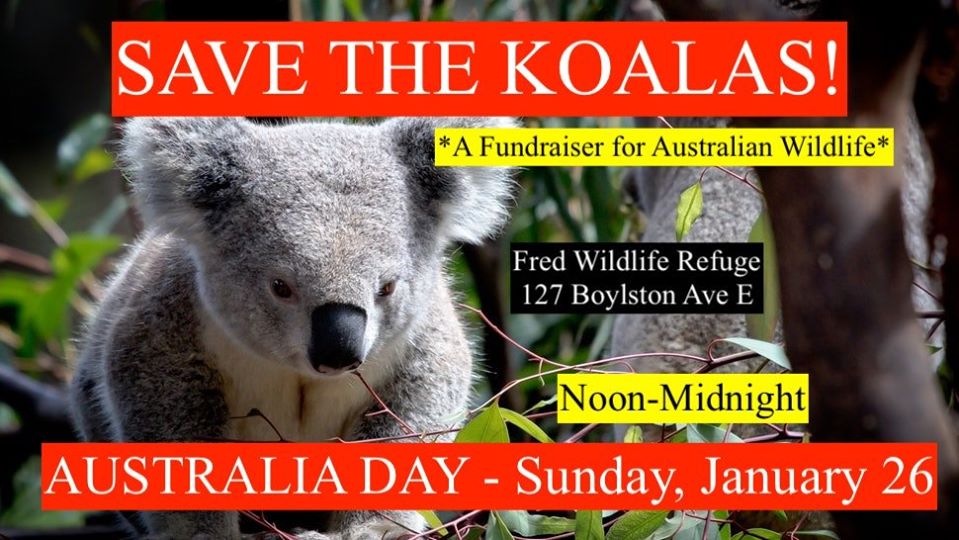 50+ of Seattle's Performing Artists Are Coming Together & Joining London With A 12 Hour Dragtastic Fundraising Event In Capitol Hill On Australia Day (Sunday, January 26) To Help Save The Koalas & Wildlife!!!
It is estimated MORE THAN 1 BILLION animals, including 30-50% of the entire koala population has been wiped out due to the bushfires that have ravaged Australia. It is a catastrophic moment in our time. COME OUT ON SUNDAY, JANUARY 26 (Australia Day) for a 12-HOUR PERFORMANCE FUNDRAISING event at Fred Wildlife Refuge on Capitol Hill. Let's do something and raise money to help save animals from probable extinction.
***** CAST LIST (alphabetical order) *****
Alexus Montoya • Alessandra Hunt • Amora Dior Black • Andrew Scott • Angel Baby Killkillkill • Anita Spritzer • Antonio Vaughn • (DJ) Arson Nicki • Brandon Lentz • Cannoli • CarLarans • Dion Dior Black • Dolce Vida • (DJ) Drake Moon • (DJ) Essex • (DJ) Flo • Gaysha Starr • Holli B. Sinclair • Irene Dubois • Issabella Extynn • Jemma Von Swan • Karma Armour • Kenzie Kardashian • Kristi Champagne • Kylie Mooncakes • Ladie Chablis • Lilith • LüChi • Lucy Paradisco • Minerva Markos • Momma Nikki • (DJ) Nick Cressman • (DJ) Papi.Wav • (DJ) Ricki Leigh • Rowan Ruthless • Rylee Raw • Sativa • Skarlet Dior Black • Smokey Von Tats • Stacey Starstruck • (DJ) Steven Didis • (DJ) T. Wan • Thadayus • (DJ) Tony Burns • Trixxetta Truckstahp • Velicity Dior Black • Visage "Legs" LaRue •
**********
• • • Doors open at NOON and we'll be raising money with the community until MIDNIGHT. This is a 21+ event. Entrance is on BELMONT AVE • • •
• • • We are carefully selecting THREE (3) non-profit organizations in Australia, associated with Koala and Wildlife Rescue + Rehabilitation. Every fundraiser attendee will be able to vote on the organization whose mission they love the most. After the event, we will divide the money raised between those organizations based on the community vote. (SELECTED ORGANIZATIONS WILL BE ANNOUNCED PRIOR TO THE EVENT. ADDITIONALLY, WE WILL BE ABLE TO ACCEPT CHECKS AND ACCOMMODATE ONLINE DONATIONS FOR THOSE ORGANIZATIONS AT THE EVENT). • • •
• • • • Donations of $1-100+ (sliding scale) accepted at door for the show. All payment methods accepted. • • •
• • • • • We encourage you to bring extra $$$ to play games with and for SHOWING MASS LOVE TO YOUR PERFORMERS + TALENT – AS ALL MONEY RAISED WILL BE DONATED. Come for a fantastic show, have fun, do good with your money AND HELP SAVE THE KOALAS + WILDLIFE IN AUSTRALIA!! • • •
*****SUNDAY, JANUARY 26th 12p-12a @ FRED WILDLIFE REFUGE!! *****
———-
"The koala is one of the world's most iconic animal species…And they're found nowhere else in the world but Australia!" – WWF
———-
"It's estimated MORE THAN 1 BILLION animals have been killed in Australia's fires, either directly or from related causes, such as starvation, dehydration or habitat loss." – NBC News
———-
"'There's not much that isn't threatening koalas at the moment'… Without quick intervention, koalas that survived the fires 'are going to die of starvation.'" – The Los Angeles Times
———-
"The koala's main habitat is on the fire-ravaged east coast—which is sometimes called the 'koala coast.'…the only population of koalas not affected by chlamydia—which can cause infertility and blindness—is on the severely burned Kangaroo Island." – The Wall Street Journal
———-
"The fires could be the last straw that drives fragile populations over the brink." – The Washington Post
———-
"We are expecting that the koalas after this event will be no longer endangered but at some level of extinction." – ABC AUS
———-
Schedule · Sunday, January 26, 2020
Thadayus, Skarlet, Irene, DJ Papi.Wav, DJ Arson, Alexus, Brandon, Dolce, Kenzie, Kylie, Rylee
Smokey, Gaysha, Kristi, DJ T. Wan, DJ Flo, Adé, Andrew, Antonio, Chablis, Hot Pink, Jemma, Karma, Stacey
Lilith, Isabella, Lucy, DJ Nick, DJ Tony, DJ Ricki, Cannoli, Holli B., Momma Nikki, Minerva, Rowan, Velicity, Visage
Amora, LüChi, CarLarans, DJ Drake, DJ Steven, DJ Essex, Alessandra, Angel, Anita, Dion, Essence, Sativa, Trixxetta
Related Events