Scream for Queer Art!
November 8, 2018 @ 6:00 pm

-

10:00 pm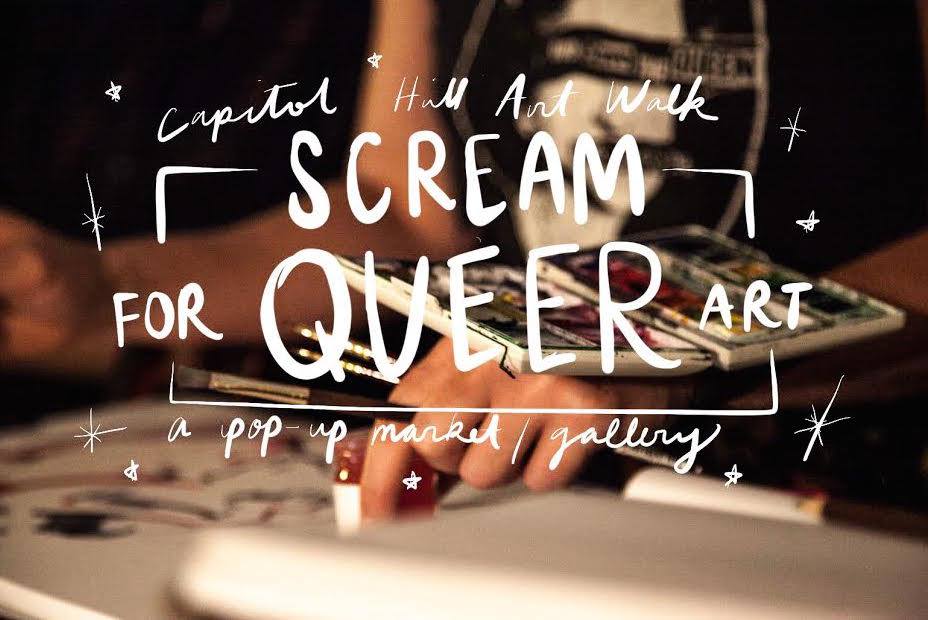 A pop-up gallery/market hosted at Scream Salon for Capitol Hill Art Walk. Featuring an eclectic array of artwork and hand-crafted wares by local queer folx. Artists TBA.
Complimentary refreshments. All ages welcome.
Bring cash. CASH IS QUEEN.
▲ ▲ ▲ ▲ ▲ ▲ ▲ ▲ ▲ ▲ ▲ ▲ ▲ ▲ ▲ ▲ ▲ ▲ ▲ ▲
☽ BROOKE recycles objects collected from abandoned places into knick-knacks for your humble abode. IN THIS EPISODE: Decrepit Dental Office.
☽ CENSUS is run by a QPOC skater boy who screenprints clothing, collects vintage/second hand clothing, and makes zines!
☽ FAITH GROSSNICKLAUS is a queer musician and sculptor based in Seattle, Washington. Her work draws from desert and forest landscapes, and the things you find there. Bone China Designs is her line of hand sculpted porcelain bone inspired creations, lovingly made in the Pacific Northwest.
☽ KAYLA ROSEN (they/them) is a genderqueer zinester, educator, and performing poet. They have been publishing personal zines about disability, trauma, queerness, and healing since 2015.
☽ LOUISE CROFF BLAKE is a resident painter, illustrator, designer, and DJ in Seattle's Queer Underground. Their work, regardless of media, takes a playful approach to speaking on queer identity, specifically in celebrating a multitude of nuanced genders. Blake entered Seattle's DIY arts scene in 2013 as a member of Lion's Main Art Collective, and they continue to work in both visual and aural media as a member of TUF. While delving into the joy of material and the obsession to create, their work always angles back to the relevancy of identity politics. It is always either directly or tangentially focused on what it means to be hungry for representation, to take up space, and to reserve space for those who need it even more.
Blake is the Author of DECK OUT, a functional deck of playing cards that is renovated for the contemporary Queer Lifestyle. They hand-illustrated each of the face cards to reinterpret the standard gendered entities (Jack, Queen, King) as non-binary, femme, and masc. Concurrently, each suit correlates to a key facet of queer culture: Spades = Vigilantism, Hearts = Kink, Diamonds = Spirituality/Witchcraft, and Clubs = Nightlife. This project expands outward into other functional media, incorporating apparel, which is instrumental to gender presentation. These unconventional canvases include the use of fabric paint on t-shirts, and oil paint on canvas tote bags and denim jackets. As a complete equation, DECK OUT works to enhance queer visibility in both public and domestic spaces, incepting non-binary representation to those who lay hands or eyes on it.
☽ MISSY BERENS has always been a hands on 3D-tactile artist. She loves to use different mediums, such as and not limited to metal, wood, textile and resin to invoke the ideal emotion. Finding the beauty in the unlikely and misunderstood is the underlying motive in all of her utilitarian pieces.
☽ MOON MILK is the creation of Hazel Fern – a fat, femme, white Jewitch, creator and facilitator of healing. My inspiration is drawn from the rhythms of earth and her nature songs, how moonlight dances across starry skies, the wonder of waterfalls and transformative power of churning seas, the creative warmth of a crackling fire lighting up ancient woods. I recognize and honor that the land I work my magic on is home and ancestral ground to the Multnomah Tribe of Portland, Oregon as well as all the Indigenous persons of the Pacific Northwest including the Chinook, Quileute, Coast Salish, and many others.
As a white, queer owned business, Moon Milk is dedicated to supporting BIPOC and LGBTQ+ lives through financial support as well as donating time, resources and soaking salts directly to marginalized community members and organizations. 13% of all sales are donated to seasonally rotated organizations or directly to BIPOC in need.
☽ RANT SALT CASEY was born in 1991 in Washington State and has loved and created art their whole life.
They started drawing and sewing at a very young age, and, despite having no formal artistic education, continued on to sew, model, and photograph professionally throughout their teens and twenties. Currently their main focus is on photography with an emphasis on theatrical self portraiture as a mode of emotional exploration.
Rant's modeling work has been published in various magazines since 2012 and they showed their photography for the first time in 2017 at the Worlds Within Shadows group exhibition at the Garner Arts Center in New York.
☽ After years of teaching students, ROBERT JOHNSON is on a new learning path for himself. This conceptual digital art is driven by his interest in color, shape and light. A final image begins with a single photo and Its path to completion is rarely quick. Often times, he revisits it over a period of days or weeks. Experience and experimentation drives this process.
This work is diverse in its look and appearance and Robert wants the colors and subjects to make one pause, to make one think.
☽ SARAH COONS is a hippie-goth mom who makes fun and functional ceramics.
☽ Despite the constant toil under capitalism, heteropatriarchy, and nationalism, STEFANIE BRENDLER'S art reflects the joys of life as a queer Jew, musician, and crafter.
(Visited 1 times, 1 visits today)
Related Events