Scream for Queer Art!
August 8, 2019 @ 6:00 pm

-

10:00 pm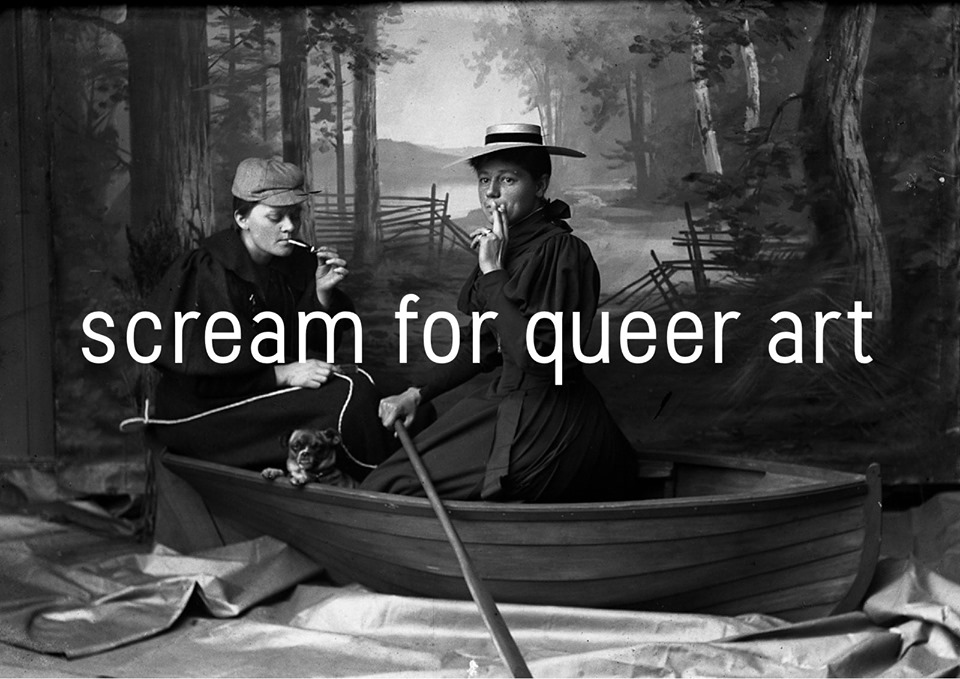 A pop-up gallery/market hosted at Scream Salon for Capitol Hill Art Walk. Featuring an eclectic array of artwork and hand-crafted wares by local queer folx.
Complimentary refreshments. All ages welcome.
Bring cash. CASH IS QUEEN.
▲ ▲ ▲ ▲ ▲ ▲ ▲ ▲ ▲ ▲ ▲ ▲ ▲ ▲ ▲ ▲ ▲ ▲ ▲ ▲
CapsNscraps is a local recycling artist working out of an art studio in Belltown to create one of a kind accessories. Alix works mostly with bottlecaps to create giant chandelier style statement pieces to adorn that almost classy friend in your life. You can check her out at the 2nd Fridays Back Bar Flea Market and 2nd Sundays TractorTavern MakersMarket.
Erica Sterling is a film photographer and queer artist creating intimate images of the humans she knows and encounters. Her work focuses on creating relationships in the queer community through spending time with her subjects and fostering an environment where people feel comfortable being themselves. Her images are soft and grainy- colorful and sometimes painterly. More than anything she wants to develop trust with the folks she photographs and give trust back- to create an experience that allows each individual to feel empowered and understood.
Ethan is a nonbinary Black trans human from the south finally making xyr way to the best coast. Xe dabbles in a multitude of visual art forms, but mostly enjoys creating comics that shine light on the intersections of being Black, trans, southern, & life beyond the binary. You can check out many of xyr current works on instagram.com/3thanXP
Hazel Fern is a fat femme, white jewish witch, tarot reader & creatrix residing on occupied Chinook, Clackamas & Cowlitz land currently known as Portland, Oregon. She approaches tarot as a tool to connect with your guides, ancestors & highest self through ritual, storytelling and imagination. She's here to hold you through the unfolding with humor, gentleness, and a big dallop of femmapthy. To find out more about her offerings, follow @moonmilkrituals on Instagram!
Helene Glover (Nomihelene) specializes in one of a kind, handmade adornments and accessories for the individualist. Statement pieces that are avant garde, elegant, and eclectic. https://www.instagram.com/nomihelene/
San Francisco native Marcia Moonstar began writing poetry as a teenager. She has performed her work in coffeehouses, bookstores, and at many women's events throughout the Northwest with her unique style of performance poetry, with music, dance and masks. Marcia has a self-publishing company called Celebrate yourself cards and books. She will have a new addition of her romantic and erotic mini book "Color my love lavender" available at Scream for Queer Art! Marcia can also be found most Sundays in the spring and summer at the Fremont market with her poetry. Her poetry books and cards are available on her website www.marcymoonstar.com
Sarah Maloney is a queer visual artist and storyteller. She/Her @maloneydoodles
Talia Halperin is a Seattle-based glassblowing student and artist creating glass plant hangers, cannabis pipes, and pendants. She works to create inviting pieces with a feminine vibe and she is inspired by flora motifs. All pieces are made with high-quality materials and each purchase includes one free repair. You can find her work and own our own piece of art at Talia Glassblowing and @TaliaGlassblowing on Facebook and Instagram respectively.
Cover photo: Marie Høeg and her partner Bolette Berg.
(Visited 1 times, 1 visits today)
Related Events