Scream for Queer Art! Holiday Market!
December 12, 2019 @ 6:00 pm

-

10:00 pm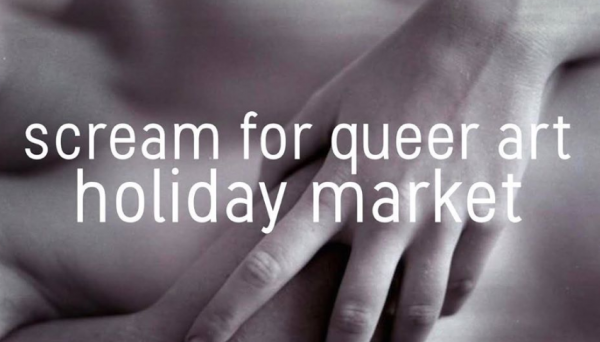 A special holiday market edition of the monthly pop-up gallery/market, Scream for Queer Art! Featuring an eclectic array of artwork and hand-crafted wares by local queer folx.
SHOP SMALL BUSINESS. SUPPORT QUEER ARTISTS.
Complimentary refreshments. All ages welcome.
Bring cash. CASH IS QUEEN.
▲ ▲ ▲ ▲ ▲ ▲ ▲ ▲ ▲ ▲ ▲ ▲ ▲ ▲ ▲ ▲ ▲ ▲ ▲ ▲
▽ Bitter Melon Botanicals offers small batch herbal remedies made from ethically harvested plants. As an acupuncturist & western herbalist, Dylan's remedies combine both Chinese and western herbs to create highly medicinal and nourishing blends.
Instagram: @bittermelonbotanicals
▽ Deycha Robinson is a Seattle based visual artist. As a black womxn born to a single mother and raised in Washington, D.C., she unequivocally belongs to a rich history of innovation and resilience. Inspired by joy and pleasure, her atmospheric illustrations portray food, nature, the black body and the relationship between the three. Alternating between ink, watercolor and gouache, her techniques vary and are fluid. She also incorporates digital mediums in the exploration of joy and pleasure. https://www.behance.net/pensandprosecco
▽ elizabeth maria ortega is printmaker. They use the medium of linoleum carving and printing. Each of her pieces are hand drawn, carved and printed. Each print is an ode to the wisdom of the land, plants, creatures and spirit. Their work serves as a reminder to listen. To listen and be mindful of where you come from: who your ancestors are, what's around you, who's around you and to look beyond yourself to see your place in a greater cosmic order. The creativity that inspires her work is cultivated from a deep admiration of the interconnectedness of all things. https://www.etsy.com/shop/elizabethmariaortega
▽ Erica Sterling is a film photographer and queer artist creating intimate images of the humans she knows and encounters. Her work focuses on creating relationships in the queer community through spending time with her subjects and fostering an environment where people feel comfortable being themselves. Her images are soft and grainy- colorful and sometimes painterly. More than anything she wants to develop trust with the folks she photographs and give trust back- to create an experience that allows each individual to feel empowered and understood. www.ericasterling.com
▽ Hayden Stern is a Seattle-based artist who primarily makes work depicting bodies like theirs – fat, transgender, disabled bodies, bodies that have survived trauma, bodies that flap their hands. They recently completed and showed a series called The Trans Tarot, a major arcana tarot deck design based in submitted portraits form transgender community members, and are now working on a mixed media fiber arts series focused on queer, disabled bodies. bioluminator.squarespace.com
▽ Immaculate Obscurity: Original handmade prints created by acrylic transfer of xerox collages on primed canvas. Collages created from images and headlines ripped from the pages of vintage pornography, men's magazines, and other ancient ephemera, from the artist's own personal collection. Put it in a frame or sew some things on your things. Also, magnets of all original designs for people who can't sew. Repro prints of film icons, directors, musicians, and other damn fine weirdos. Tarot, punk lyrics and some things better left unsaid, as wearing them is loud enough. CDs and tapes of forgotten early powerpop and punk singles from the late 70s and early 80s. Other toner smudged surprises always TBA. Instagram: @immaculate_obscurity Etsy: https://www.etsy.com/shop/IMMACULATEOBSCURITY
▽ Jasmine (aka Jazz) is a queer, trans artist and Seattle area native. She loves gardening and facilitating the expansion of community consciousness toward greater empathy, cooperation and abundance. Jazz centers the ideas of spiritual life, queerness, love of nature, and the incredible power and struggle within us all. She hopes to empower and lift up as many as she can, and her art is just the first step! Join her for a tour through the depths of mind, come with open hearts and listening ears. Website: SpiritaBotanica.org. Instagram: @4Dplantz.
▽ Joseph John Sanchez III creates ink-based pieces composed of swirling handwritten text that appears as texture from afar. His work encourages the viewer to pause, linger, and appreciate the beauty of language. Based in Wenatchee, he has recently displayed pieces throughout the state at MIVAL Gallery, Confluence Gallery, and the Port Angeles Fine Arts Center. Instagram/Twitter/Facebook: @joejohnart. Website: joejohnart.com
▽ Kassandra Davis is a cartoonist living on the outskirts of Seattle and sanity. Most well-known for her Mockery and Vodka comic series, her work is mostly autobiographical and topical in nature. Her current work is inspired by the reality of her own mental and physical health and in contrast, cinematic horror film characters and other pop-culture references. https://www.thekassandradavis.com
▽ Marissa Sohn is an artist, enthusiast, and general obsessor living and working in the Seattle area. Her involvement in the arts is a passion beyond anything else, nurtured and nuanced during her time at Cornish College of the Arts where she explored the depths of analogue and alternative photographic processes. Years later, her repertoire now includes video, performance, installation, sculpture, and wearable/textile works which she regularly showcases around Seattle. Through investigating her own experience as a biracial, queer, woman in America, she embraces the feeling of being grounded in an identity that is contradictory, undefined, and ever changing. Instagram: @marsmadejewelry. Website: marissasohn.com
▽ Mia Della Valentina (Mia Della Valentina) is a Seattle native who creates hand-cut collage art using recycled magazines. She takes inspiration from surrealism, vaporwave, and vintage photography. https://miadellavalentina.com/ + https://www.instagram.com/miadellavalentina/
▽ Nina Raizel Hartman grew up in Seattle, WA and went to college at the Rhode Island School of Design in Providence, RI. After graduating in 2014 with a BFA in Jewelry and Metalsmithing, she moved back home to pursue a career in jewelry. Since then she has been creating jewelry in her studio, as well as volunteering for the Seattle Metals Guild. The jewelry she makes is based on conscious design, craft, and sustainability. She wants her work to be beautiful, but more than that she wants her jewelry to be a symbol for her environmental and social ethics. nina-raizel.com and IG: nina.raizel.jewelry
Cover photo: Donna Gottschalk.
Related Events