Scream for Queer Art! @ Love Market
February 13, 2020 @ 6:00 pm

-

10:00 pm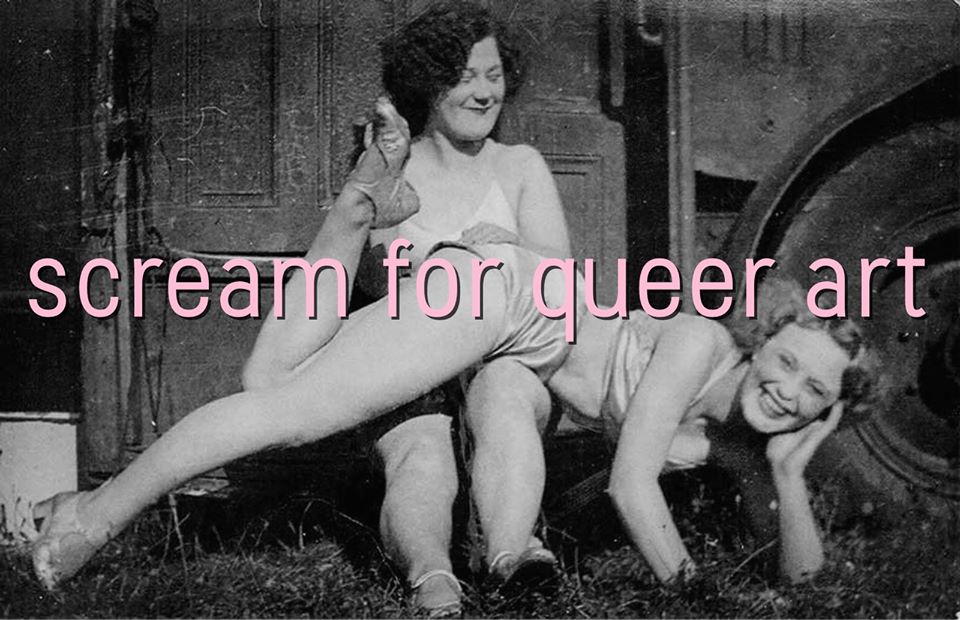 Scream for Queer Art! is a quintessential part of Capitol Hill Art Walk. This monthly gallery/market features an eclectic array of artwork and hand-crafted wares by local queer folx.
SHOP SMALL BUSINESS. SUPPORT QUEER ARTISTS.
Complimentary refreshments. All ages welcome.
Bring cash. CASH IS QUEEN.
▲ ▲ ▲ ▲ ▲ ▲ ▲ ▲ ▲ ▲ ▲ ▲ ▲ ▲ ▲ ▲ ▲ ▲ ▲ ▲
▽ Aaron Gates grew up in Pennsylvania, lived for two years in São Paulo, studied rhetoric and composition in Utah, and now explores the cityscape of Seattle, working as a copyeditor. He manages peculiar: A Queer Literary Journal, which he cofounded, and his poetry has been published in Sugar House Review and Dinner Bell Mag. In his spare time, Aaron enjoys twice-baked ham and cheese croissants and searches out anything plaid for his lumberjack-wedding Pinterest board. https://www.peculiarjournal.com/
▽ El is a self-taught queer artist who has lived in the Seattle area her entire life. She primarily utilizes digital mediums for creating meaningful art pieces reflecting her perspective and vision. Her style incorporates muted tones, texture, and value. Spending hours upon hours cooped up in her room or at a local coffee shop, she dedicates most of her time into creating and using her art as her primary voice. Much of her art is inspired by queer love, highlighting social justice topics and influential lgbtq+ folx through history. www.digitelart.com + instagram.com/digitel.art/
▽ elizabeth maria ortega is printmaker. They use the medium of linoleum carving and printing. Each of her pieces are hand drawn, carved and printed. Each print is an ode to the wisdom of the land, plants, creatures and spirit. Their work serves as a reminder to listen. To listen and be mindful of where you come from: who your ancestors are, what's around you, who's around you and to look beyond yourself to see your place in a greater cosmic order. The creativity that inspires her work is cultivated from a deep admiration of the interconnectedness of all things.
▽ Erica Sterling is a film photographer and queer artist creating intimate images of the humans she knows and encounters. Her work focuses on creating relationships in the queer community through spending time with her subjects and fostering an environment where people feel comfortable being themselves. Her images are soft and grainy- colorful and sometimes painterly. More than anything she wants to develop trust with the folks she photographs and give trust back- to create an experience that allows each individual to feel empowered and understood.
▽ Hayley is a Seattle-based visual artist. She creates abstract embroideries, hand-stitched patches, expressive paintings, and more. Instagram: @sissy.fuss
▽ Kate Berwanger is a short fiction writer and literary event producer in Seattle. Her passion lies in tactile storytelling and curating atmospheric literary affairs with a focus on women writers and the LGBTQ community. She is the proud founder of Assembly Open Mic for literary works in progress and Surreal Storytelling with Strange Women. www.kateberwanger.com.
▽ Odditorium Obscura: Neon, queer, macabre an exploration of.
▽ Marissa Sohn is an artist, enthusiast, and general obsessor living and working in the Seattle area. Her passion for the arts brought her to Cornish College of the Arts in 2011 where she began exploring her sense of identity and experience as a biracial, queer, woman in America. Over the decade her work has included a wide range of media such as photography, video, performance, installation, sculpture, wearable/textile works, and in the last 5 years she's found a love for jewelry making. She discovered a unique sense of empowerment in wearing something she created herself, and hopes others can feel the same sense of confidence when wearing her pieces. She gravitates towards working with gemstones and finds inspiration in their organic structures to create one-of-a-kind pieces. Instagram: @marsmadejewelry / Website: marissasohn.com
▽ Rosa Brodsky shares her diary comics and demons, bringing sulphuric nightmares into the fluorescent light of the 24 hour diner.
rosabrodsky.com
▽ Sierra Severson is a queer artist living in Seattle, Washington. Sierra is inspired by the city and the unique lives that flourish here. She uses dada-esque imagery that usually creates fantastical interaction with everyday political issues. She also loves making surreal images that uplift women and deal with beauty standards and beliefs.
▽ Serpentine Creative: A Georgetown Seattle based Jewelry design company, Lisa Florence Lipman specializes in making unique handmade pieces using metals, stones, bones and more. http://etsy.com/shop/serpentinecreative
(Visited 2 times, 1 visits today)
Related Events