Seattle Transoween 2022
October 29, 2022 @ 12:00 pm

-

6:00 pm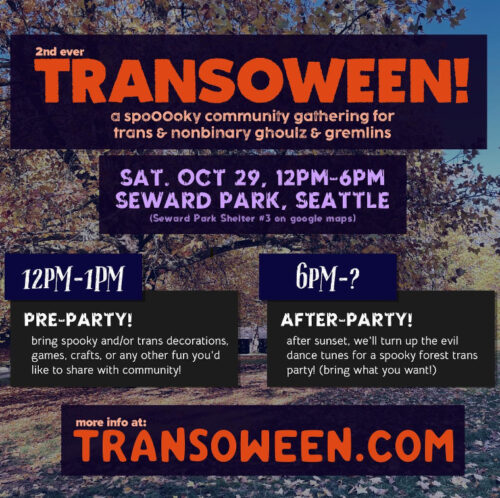 Transoween 2022, Sat Oct 29, 12pm-6pm, Seward Park Seattle. 🎉
IT'S TRANSOWEEN TIME!!The very first Transoween in Seattle happened in October 2021, and now we're doing it again! Last year, we had over 300 trans & nonbinary people visit in costume, enjoyed some candy, transy costumes,This time we have a awesome small group of trans POC co-organizers coming together to put together the logistics for this event! We're not affiliated with any group or organization — just some trans folks in the community who want to bring us together for some trans joy & trans connection (including the same organizer as the Seattle Trans Picnic, Beachday, and Trans Camp). Our trans & nonbinary community is awesome and we need trans spaces!Come with friends or come by yourself, put on your most gendery (or genderless) costume, and be around super welcoming awesome trans folks. Make new friends, enjoy current friends, and/or just enjoy being around awesome trans people.Last year we learned a lot! It was dark, cold, we ran out of candy right away, the music wasn't loud enough and sputtered out, but still managed to have an amazing time! This time, we'll do it during the day so we can see each other's amazing costumes and be a little warmer! We'll have more candy, louder music, and another fantastic time <3.
---
COVID NOTE: This is a completely outdoor space (except the restrooms)! If you see folks wearing masks, please wear a mask yourself when near them. Please be vaccinated, and if you haven't gotten the new bivalent vaccine booster (much more effective against new strains), there are free popups all around King County here!
---
WHEN: Saturday October 29th – 12pm-6pm (sunset). Please come 12pm-1pm if you want to bring decorations and/or help set up! Some folks may stay after dark for an afterparty!
WHERE: Seward Park, Shelter #3. A huge and gorgeous clearing by the old growth forest, with 20+ picnic tables and tons of space. We have it reserved, and it's all for us. The bathroom is nearby but it's "public" so some cis may be using it. It's the same spot as last year!
WHO: All trans and/or nonbinary folks — using the broadest definition, including two-spirit, agender, gender non-conforming, questioning, and other folks who aren't cis. Emotional support cis are okay to bring with you if needed! This event is geared towards adults but younger folks are welcome using your own discretion! You're responsible for their safety please. <3 There may be adult song lyrics, adult costumes, adults being trans in general, etc. Dogs are OK but please keep in mind some folks don't like to be very near dogs!
WHAT: It's a chill unstructured halloween party for transes!
HOW: There's a big parking lot right next to our spot and it's wheelchair-accessible. There are two other very close parking lots for overflow. It's also on the Metro Route 50 which comes from West Seattle, SODO, Columbia City, and Othello light rail stations. Lyft/Uber and carpooling are other alternatives.
WHAT TO BRING: Your awesome self, a genderful (or genderless) costume — optional but highly recommended, and if you want, bring your own drinks and/or food. There will be candy and water — you bring any other food, other beverages, or anything else!
HELP US OUT!: From 12-1pm, we'll be having a decorating party! If you'd like, meet new friends and bring halloween decorations (any are great, but the transer the better!). Please also bring OUTDOOR GAMES and ART SUPPLIES you can share and make new friends with throughout the event!!
(Visited 4 times, 1 visits today)