Shook: Laika Beats & FRQ NCY
January 31, 2020 @ 10:00 pm

-

2:00 am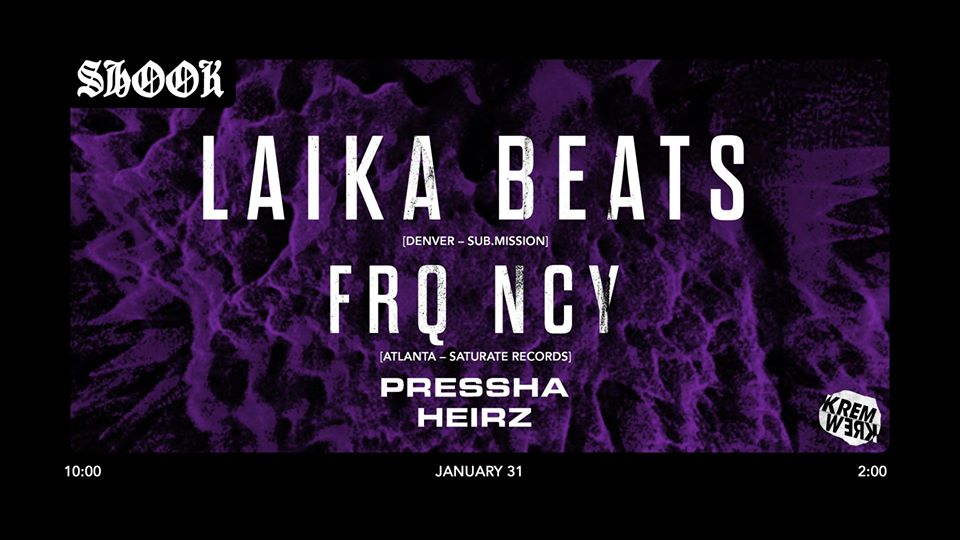 Shook at Kremwerk invites you to a night with…
Laika Beats
[Sub.mission | Denver]
www.facebook.com/LaikaBeatz
www.soundcloud.com/laika-beats
Never afraid to dive in to the unknown, Laika Beat's musical selections are a fusion of varying genres and styles of sub-bass heavy electronica. In the studio, he picks apart and infuses together elements of Hip-Hop, Dubstep, Trap, Future Bass, and Drum & Bass through the use of intricate synth sound design, mesmerizing melodies, hip-hop vocal hooks, and chest-rattling sub bass. On stage, he performs sets of all original tracks and remixes, mostly new and unreleased. Using CDJs and 4-deck mixing— he chops, mashes, performs melodies, and remixes his productions on the fly taking the crowd on a dynamic adventure of bass heavy, omni-tempo dance music.
"It's all about mood and an energetic, hypnotizing groove… mixing together sounds and styles that get you moving your body and bouncing your head without you realizing it, regardless of genre, tempo, or style." -Laika Beats
FRQ NCY
[Saturate Records | Atlanta]
www.facebook.com/FRQNCYofficial
www.soundcloud.com/frq_ncy
Atlanta native, FRQ NCY, dived into the scene in 2018 with leaders of bass playing his tracks from coast to coast. His most recent collaborative EP "Perplexity" dropped earlier this year with Mindset on Saturate Records, receiving compliments by revered musicians and highly notable music outlets.
Already sporting releases on labels such as Saturate Records, Sound Museum, Shadowtrix, Wormhole Music Group, and more, FRQ NCY delivers a unique heavy and sinister sound with his tracks. Perfectly layered melodies on top of thick futuristic basses, he sets an eerie yet powerful atmosphere for his listeners.
and support from…
Pressha
[People Music / Danktronics]
www.soundcloud.com/pressha
HEIRZ
[Human Error / SUS Collective / Bad Luck Club]
www.soundcloud.com/heirz
Get Tickets: http://bit.ly/LaikaBeatsFRQNCY
Art by Molly Brooks
∻∻∻∻∻∻∻∻∻∻∻∻∻∻∻∻∻∻∻∻∻∻∻∻∻∻∻∻∻
Kremwerk
1809 Minor Ave.
Seattle, WA
http://kremwerk.com/
21+
∻∻∻∻∻∻∻∻∻∻∻∻∻∻∻∻∻∻∻∻∻∻∻∻∻∻∻∻∻
Sign up for the Kremwerk + Timbre Room Complex mailing list on our website, to stay in the loop about upcoming events, ticket giveaways and more!
http://www.kremwerk.com/
∻∻∻∻∻∻∻∻∻∻∻∻∻∻∻∻∻∻∻∻∻∻∻∻∻∻∻∻∻
Kremwerk does not tolerate bigotry, sexism, homophobia, transphobia, racism, misogyny, ableism, or any discriminatory actions. Security is strictly enforcing these rules, and those who do not abide by these rules will be told to leave.
Timbre Room is ADA accessible with a ramp to the front door/bar area, and access to the back door/dance area through the patio area, and 2 accessible gender-neutral restrooms available. If you have any questions about the safety or accessibility of this venue, please email info@timbreroom.com
Related Events