SHOOK presents: SINISTARR + SIR HISS @ Timbre Room
February 12 @ 10:00 pm

-

2:00 am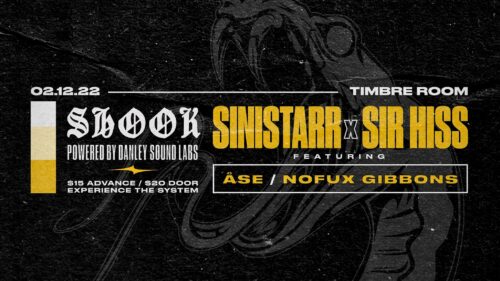 Due to rising COVID-19 cases we'll be requiring proof of vaccination for entry to our shows. ALL patrons, staff, and artists must be FULLY vaccinated for a minimum of 2 WEEKS prior. Negative test results will NOT be accepted. Thank you for your cooperation in keeping our events safe
SINISTARR
[Hooversound | Exit UK | Unchained]
Jeremy Howard (aka Sinistarr) is among the most interesting and exciting names to hit the
underground dance music world. He is known as an innovative and consistent producer, and a
skilled and adventurous DJ. Jeremy's sound is an authentic extension of his Detroit roots and
the pure talent he possesses, deftly exploring the soul of yesteryear in a modern context. Jeremy's sound began in the world of Drum & Bass, with releases across the board on the
genre's top labels. As his production prowess grew, his music branched out into many different
tempos. Through it all, he maintains a unique sound exploring the realms of Footwork, Jungle,
and Techno. Sinistarr has recently put out music on the labels Hooversound, Defrostatica, Unchained
Recordings, and the 70th release on dBridge's iconic Exit Records.
SIR HISS
[White Peach Records | No More Mailouts]
The latest and most exciting addition to the seemingly endless pool of Bristol talent, 23-year-old DJ / Producer Sir Hiss burst onto the scene in early 2018 with the seminal 12" cut 'Danny Uzi Vert', an Outlook Festival anthem whose first run of 500 copies sold out in 30 minutes. An extremely active year followed, with regular performances at prestigious events nationwide, while his productions also gained heavy support from heavyweights such as Commodo, Kahn & Neek, Mala and Sir Spyro. Cementing his already impressive credentials, Hiss was also tapped up by Roll Deep originator Manga Saint Hilaire to produce the entirety of his critically acclaimed 'Outsiders Live Forever' project.
Many would struggle to follow such an impressive start to a career, but by setting up his own label 'No More Mailouts', Hiss has been able to create a home for his own instrumentals, and collaborations with vocalists, such as his regular sparring partner Emz – in the short time since lockdown has lifted in the UK, their DJ x MC sets have sent ripples of excitement across the British dance music scene. Their collaborations, such as 'Finna' and 'Malkova Love' have seen Hiss expand his palette beyond the 140 world, while their anthemic jungle cut 'In For The Night' alongside Sam Binga received heavy radio support, from BBC Radio 1 to Kiss FM and beyond.
Equally at home cooking up bangers in the studio, or shelling raves behind the decks, Sir Hiss continues to solidify his position as a producer and DJ to watch – closely.
and support from…
Ase
https://soundcloud.com/alyssamariehovde
Nofux Gibbons
https://soundcloud.com/nofuxgibbons
∻∻∻∻∻∻∻∻∻∻∻∻∻∻∻∻∻∻∻∻∻∻∻∻∻∻∻∻∻
Kremwerk
1809 Minor Ave.
Seattle, WA
http://kremwerk.com/
21+
∻∻∻∻∻∻∻∻∻∻∻∻∻∻∻∻∻∻∻∻∻∻∻∻∻∻∻∻∻
Sign up for the Kremwerk + Timbre Room Complex mailing list on our website, to stay in the loop about upcoming events, ticket giveaways and more!
http://www.kremwerk.com/
∻∻∻∻∻∻∻∻∻∻∻∻∻∻∻∻∻∻∻∻∻∻∻∻∻∻∻∻∻
Kremwerk does not tolerate bigotry, sexism, homophobia, transphobia, racism, misogyny, ableism, or any discriminatory actions. Security is strictly enforcing these rules, and those who do not abide by these rules will be told to leave.
Timbre Room is ADA accessible with a ramp to the front door/bar area, and access to the back door/dance area through the patio area, and 2 accessible gender-neutral restrooms available. If you have any questions about the safety or accessibility of this venue, please email info@timbreroom.com
Related Events