Skanksgiving: a Camp Conception holiday fundraiser
November 29, 2019 @ 10:00 pm

-

2:00 am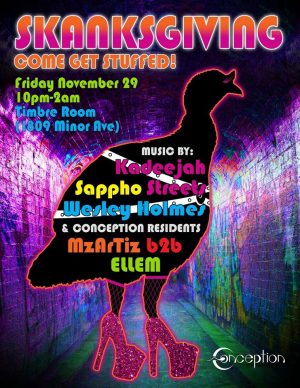 Come to Conception's annual fundraiser! strut your skankiest stuff, and dance off that turkey! featuring:
Kadeejah Streets (Innerflight Music)
b2b
Sappho (Bottom Forty)
Wesley Holmes (Flammable Sundays)
& Camp Conception residents
Dj Mz ArTiz
b2b
ELLEM
What's better than 1 dancefloor? 2 dancefloors!
We're partnering with our good friends at Loosely Based who will be throwing Rough Draft: Leftovers 2 downstairs in Kremwerk!
Admission for this event is also $10 Adv / $15 DOS, and you can save cash if you'd like to attend both: if you bought a presale ticket to either event and decide you want access to the other event on the night of 11/29, you can gain access for a discounted price of $12.50 (save: $2.50). Alternatively, if you were planning to pay at the door, you can gain access to both events for $25 (save: $5).
about Camp Conception:
Rising from the ashes of Camp Discopolis (BM10), the Conception Arts Collective explores the inside of the creative act—the ultimate rite of passage between nothingness and existence. Inherently trans & intersex, neither female nor male, Conception hovers at the fulcrum between imagined and actual, where potentials collide into form, matter, and light.
——————————–
Camp Conceptions seeks to provide a safe loving space for people from all walks of life to connect, participate, and express themselves as part of the Seattle creative community. Event organizers strive to cultivate and maintain this standard of mutually respectful behavior, so please be mindful of staff, security, bartenders, artists, and other attendees at all times. those who exhibit racist, sexist, homophobic, trans-phobic, ableist, ageist, and/or physically/sexually/verbally aggressive behavior will potentially be bounced for the night, barred from future events, and/or have legal charges filed against them. If you find yourself the target of any of these aggressive behaviors please alert event staff/security immediately and they will assist you with whatever you need.
(Visited 1 times, 1 visits today)
Related Events