SML Chili Cook-Off
June 16, 2019 @ 2:30 pm

-

4:00 pm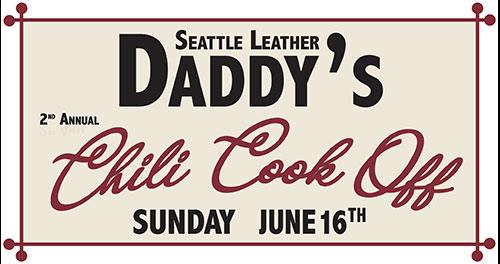 For many years, Seattle Men in Leather has hosted a Father's Day (Daddy's Day!) chili feed and BBQ at the Cuff, put on by the Leather Daddy and Daddy's Boy titleholders. Following in Nightcat's footsteps from last year, this will once again be a Chili Cook-Off contest! 4 or 5 daddy-types from the club will be making their own favorite version of chili, and you will get to sample them and vote for your favorite.
Last year, our winners were Kelley Wilt and Mike Daggs, both of whom have been Seattle Leather Daddy titleholders themselves.
This year, our chili cook-off contestants are:
Nightcat (Seattle Leather Daddy 2018)
Dean Arsenault (Seattle Leather Daddy 2017)
Jeff Henness (Seattle Leather Daddy 1998)
Joel Dannis with Barry Luke
Jim Drew (Seattle Leather Daddy 2004)
The chili cook-off contest will start at 3 pm on Sunday, June 16, on the Cuff patio. (Doors open at 2:30.) For $5, you will get a taster cup of each of the chilis and a ticket for casting your vote, and a piece of cornbread as well.
Once we have awarded the winner (at about 4 pm), SML will be staffing the BBQ grill to serve up hamburgers and hot dogs… and any of the chili remaining from the contest! (Anyone up for a chili dog?) Regular prices apply for the BBQ, separate from the chili cook-off — $5 burgers, $3 dogs, +$1 for chili.
(Visited 1 times, 1 visits today)
Related Events