Soft Option: Here Come the Brides w/ DJ Minx @ Monkey Loft
October 2, 2021 @ 10:00 pm

-

October 3, 2021 @ 4:00 am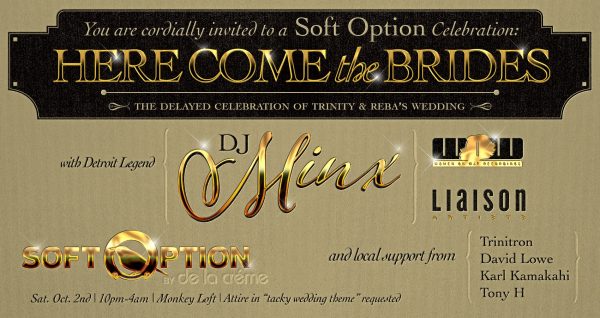 This month we are celebrating the wedded bliss of 
Reba and Trinity
Due to COVID they chose to elope and put off the reception. As we do in our strong house community (this is public and all are welcome), we are choosing to have a delayed reception on their one year anniversary to celebrate!
Keeping it weird:
THEME is TACKY WEDDING
So find those hideous bride's maid dresses and ruffled tux shirts!! It's costume time!
We are also flying in the Detroit LEGEND and owner of Women On WAx Records: DJ MINX
:::FULL LINE UP:::
DJ Minx
Trinitron
Tony H
David Lowe
Karl Kamakahi
Proof of vaccination is required to attend this event and we are back to masks indoors in accordance with the statewide mask mandate.
———————-
Soft Option (n):
1. in a number of choices, the one considered to be easy or the easiest to do, involving the least difficulty or exertion.
Soft Option showcases the best in Seattle's musical talent and local flavor, and for De La Creme, it's the right way to do things. We look forward to hosting you.
DETAILS:
• 21+, CASH COVER
• Bar accepts credit cards.
• ATM on site
• Coat check on site
Monkey Loft
2915 1st Ave South, Seattle, Washington 98134
Want more SOFT OPTION? Join SOFT OPTION by De La Creme Soundsystem and keep up with our events.
Facebook: 
https://www.facebook.com/SoftOptionDLC/
~~~~~~~~~~~~~~~~~
CONSENT, DANCING, PERSONAL SPACE, and BOUNDARIES:
There is zero tolerance for harassing, unwanted touches, gropes, grabs, and repeated unwanted approaches. This is inappropriate behavior here – and anywhere. If you behave in this manner, you will be kicked out.
If you are being harassed, PLEASE TELL SECURITY. They are here for you, and will support you.
How do I know if it's consensual?
1) Anything other than "yes" means "no."
2) Consent is never coerced or forced.
3) Consent is negotiated through each interaction.
4) Incoherent people cannot give consent.
Related Events