Soft Option x Routine x Ommaya Records New Years Ball @ Monkey Loft
January 1 @ 10:00 pm

-

January 2 @ 4:00 am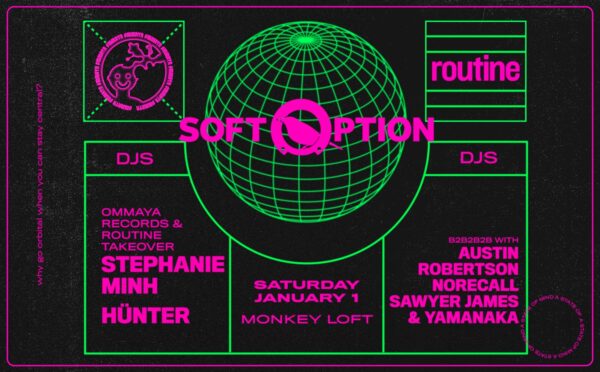 Season's greetings everyone! We're kicking off New Years with a bang, partnering with three of 2021's hottest new crews to ring in the first official night of 2022 – Routine, and Ommaya Records. Join us at Monkey Loft for our classic DLC Soft Option as we put on a winter ball to remember and ring in the next chapter.
Beyond pre-sales, a limited number of covers will be available at the door, so get there early!
~~~~~~~
Catch you getting cozy in the Loft under the first starry night of 2022, house fam 
 Routine X Ommaya Records takeover 
Interwave Surfer
Hünter
B2B2B2B with
Austin Robertson
NoRecall
Sawyer James
Yamanaka
~~~~~~~
Soft Option (n):
1. in a number of choices, the one considered to be easy or the easiest to do, involving the least difficulty or exertion.
Soft Option showcases the best in Seattle's musical talent and local flavor, and for De La Creme, it's the right way to do things. We look forward to hosting you.
–––––––––––––––––––––––––––––––––––––––––––––
~~~~~~~~~~~~~~~~~~~
SOFT OPTION POLICY:
Soft Option is a safe loving space for people from all walks of life to connect, participate, and express themselves as part of the Seattle creative community. We strive to cultivate and maintain this standard of mutually respectful behavior, so please be mindful of staff, security, bartenders, artists, and other attendees at all times.
Those who exhibit racist, sexist, homophobic, transphobic, ableist, ageist, and/or physically/sexually/verbally aggressive behavior will potentially be bounced for the night, barred from future events, and/or face legal repercussions. If you find yourself the target of any of these aggressive behaviors, please alert event staff/security immediately.
Soft Option is a space for all of us to dance, love, and live to our fullest extent. Come equipped with respect and honor for creative self-expression in others so that we may all be more ourselves.
~~~~~~~~~~~~~~~~~~~
CONSENT, DANCING, PERSONAL SPACE, and BOUNDARIES:
There is zero tolerance for harassing, unwanted touches, gropes, grabs, and repeated unwanted approaches. This is inappropriate behavior here – and anywhere. If you behave in this manner, you will be kicked out.
If you are being harassed, PLEASE TELL SECURITY. They are here for you, and will support you.
How do I know if it's consensual?
1) Anything other than "yes" means "no."
2) Consent is never coerced or forced.
3) Consent is negotiated through each interaction.
4) Incoherent people cannot give consent.
DLC/Soft Option would not be possible without the continued support from our local house music community, we are deeply grateful!!
Related Events