Spring for Zines! at Fred Wildlife Refuge
April 8, 2018 @ 6:00 pm

-

10:00 pm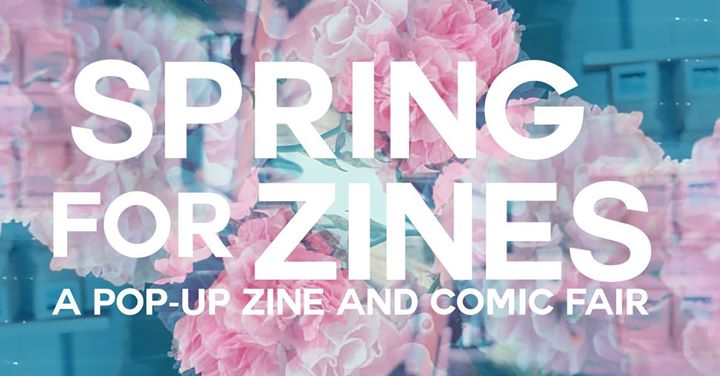 A pop-up zine fair, organized by Kate Berwanger of Swerve Zine Library, featuring some of the PNW's zine and comic community. Music provided by DJ Pepperazzi. Vendors TBA as they confirm.
We'll be raffling off a few bouquets of zines. Drink drinks, read zines. Good times for all 21+.
Amelia Fawn is an illustrator, zinester, and all-around creative mess maker who resides in a tiny apartment/art cave in Seattle Washington. She has a proclivity for pastel colors, tender feelings, and creating magic through art. Her work can be found at ameliafawnart.etsy.com , or on Instagram @amelia_fawn
Archive Six is a small press and zine distro that carries work centered around art, social justice, feminism, WOC, intersectionality, fat activism, and survival. For more info and to browse our titles, visit http://www.archive6.com.
Brandon Lehmann is a cartoonist and humorist from Seattle. He has had comics featured in The Intruder, The Seattle Weekly, Hic and Hoc Publications. http://www.bobbymono.com.
Brandon Vosika lives in a haunted apartment building in Seattle, Washington, where he works on acrylic painting, book making, illustrations with watercolor, small sculptures and the pursuit of a career in mystery and ghost stories.
ButchValley Mysteries- a campy queer erotic friend fiction mystery zine series created by Nilda Brooklyn. Set deep in the heart of ButchValley, Montana, BVM includes such hits as The Diamond Code, A Death in Blue Velvet, & Escape from ButchValley. butchvalleymysteries.bigcartel.com
Cadin Batrack is an artist and designer. He is the creator of "The Everyday Tales of Walter Hale", a minicomic about life and loneliness as seen through the eyes of a humpback whale. He is drawing a new cartoon every day in 2018 and building a small robot that vomits hand-drawn comics. http://www.cadinbatrack.com.
CENSUS is an independent QPOC-owned and multi-faceted platform for creative production. From zines/miscellaneous print, clothing and skateboarding films… we do what we want, when we want (and can afford to). http://www.canyoucens.us.
David Lu is a failed cartoonist and paper artist. He is enthusiastic about synthesizers, guitars, and guitar pedals. He's @vellum on instagram.
Eileen Marie is a visual storyteller residing in Seattle, WA. As a writer and an artist, she's interested in fantastic imagination and symbolic storytelling through comics and children's picture books. Her artwork lives between digital and traditional mediums such as ink and watercolor. The stories she writes are imaginative and whimsical with a thoughtful heart. Through uplifting themes, colorful illustrations, and quirky characters, her stories enchant the reader with a magical experience to journey through. Eileen loves cartoons, comics, and children's books with an affinity for mythology, folklore, and the paranormal. Her hair color is constantly changing, so it's hard for her to have an accurate self-portrait. She finds balance with yoga, spending time in nature, and being a cat mom to two fluffy fur babies, Magic and Mossy. You can find her at http://www.eileenmarieart.com/ or on Instagram @eileenmarieart.
Free Association Magazine (Free Ass. Mag.) is a Seattle-based, independently-published, biannual anti-architecture/architecture magazine whose content is driven by the desire to create deeper dialogue and engagement between those who design our cities and those who live in our cities. Free Ass. Mag. is a reaction to the insular nature of the architecture community and driven by a frustration with a too often top-down design approach. The goal for the publication is to collect work from around the world that is inspired by sufficiently-broad yet thoughtfully-controversial themes in architecture in an attempt to unpack wide ranging perceptions from people with little-to-no architectural training. The vision is to foster a meaningful conversation amongst thinkers in order to create better buildings, better cities, and ultimately better communities, targeting a dysfunctional industry in a dysfunctional world.
​It's Gud Comix​ is who we are, and what we love to do​ – ​make comics. Ours is a work of everyday people sharing big dreams, stories and images that reflect social issues with observational commentary and a bit of humor. We empower, enlighten and entertain with our indelicate art.
Kate Berwanger hates writing bios, but loves organizing these events. http://www.thecoyhyena.com.
Kayla Rosen is a chronically ill and psychiatrically disabled white nonbinary femme. Their zines mix prose, poetry, and the occasional visual art, and focus on themes of queerness, disability, trauma, and healing. They have performed and facilitated workshops throughout Washington, and their writing has been published by the Bisexual Resource Center. To learn more about their work, please visit kaylarosenzines.com or social media @kaylarosenzines.
kindergarten thoughts is a project created by renee shure as platform to explore and rework some basic elementary teachings through a more visual, elemental, big picture language. her intention is to invoke visceral feelings in effort to jolt privileged perspectives while simultaneously offering moments of compassion to those feeling unsafe or unseen in their truth. renee is a queer artist currently living in seattle, new to the zine scene. website coming soon!
Liz yerby is a mouse and a mess. They recently self-published a 400-page graphic novel, city mouse, full of daily comics which focus on being queer and navigating the world with anxiety. They also contribute to the free comix paper Vision Quest and put out anthologies with their comics collective the Sound Ground Wreckin' Cru. When not working on their comics practice they can be found paper-machéing a giant dragon with children or leading sing-alongs at friends comics readings.
M. Sabine Rear is a cartoonist, zine-maker, and the cute blind lady you gave your seat to on the bus. She writes and illustrates zines on disability, gender, public space, fine art and professional wrestling. Her travelogue "Reverse Flâneur" was nominated for a 2017 Ignatz Award. http://www.michaelsabine.com
Mimi Jaffe is a Seattle based artist who has been making comics and zines since she discovered her dad's stash of underground comix at a (much too) young age. She enjoys making zines that make people feel less alone. More information about Mimi and what she's all about can be found at mimijaffe.com.
Myra Lara is an architectural designer, cartoonist, and activist focusing on spatial justice, the right to the city, genderqueerness, and immigration. Drawing on her many disciplines, taught by institution and untaught by self, she explores these topics via comix, zines, protest art, and tweeting. She's originally from a bordertown in south Texas and has been living in Seattle off-and-on since 2010. You can find her at @nullthread and http://www.myralara.com
Natalie Dupille is a queer intersectional feminist cartoonist, illustrator, and teaching artist who currently splits her time (as much as possible) between Seattle and world traveling. Natalie's art focuses on documenting travel, relationships, and the natural world, and has been published in multiple anthologies, periodicals, and self-produced minicomics and zines.
Outskirt Press is a new literary small press printing the works of women and non binary/gender non-conforming writers. The press started in order give a stage to writers we believe in and to voices that are often ignored by mainstream publishers. We are a feminist press sticking around to proudly share the works of women, WOC, queer women, trans and non binary women, and immigrant women. Check us out at outskirt-press.com.
Rachel Comics is the autobiographical comics of Rachel Scheer, a comic artist living in Seattle, WA. Rachel Comics have been published by the Seattle Weekly, Narratively and Fantagraphics. When she isn't making comics, Rachel works as a fourth grade teacher. rachelcomics.com
Raychelle Duazo is a queer femme Filipina-American visual artist from the Pacific Northwest. Artistically, her specialities include portraits, comics, and typography. Her work focuses on themes of love, heartbreak, loss, memory, identity, and place. She has spoken on QPOC art & activism panels both in Seattle & NYC, is an alumni of the VONA Voices Graphic Novel Program (2014), and is an active member of the Seattle-based comics artistcollective, The HAND. Her latest work was exhibited at Vital 5 Productions' Out of Sight, Rajana Society's INTERXECTIONS, The CultureShock Collective's HIGH BLOOD, and Art Xchange Gallery's BLOODLINES.
Rose Metting is an artist based in Olympia, WA. She adores mixing colorful mediums, speaking her truth through her art and having a good chortle. Rose generally has around 5 projects going at any given moment, but the one she's been working on the longest is a graphic novel about her year teaching English in rural Malaysia. You can often spot her daydreaming and trying to get stuff done at the same time. Rose is online at http://www.rosemetting.com and on Instagram at @rosemetting.
Sarah Romano Diehl is a comics artist living in Seattle. She also paints murals and teach after school comics classes. Sarah's a contributor to Thick As Thieves quartlery, she's had work in the Seattle Weekly, several comics anthologies such as Northwest Cartoonists Cookbook published by Fantagraphics Bookstore (2017), RESIST! published by Desert Island Comics (2017), issue six of the quarterly Hey Lady published by Regina Schilling (2016), and Bloody Pussy by Short Run Small Press Fest organizers.
STEVE SIBRA grew up in Eastern Montana in the 1960s; it was a lifestyle where watermelons were a delicacy and rattlesnakes were a grim necessity. He loves to write and writes all kinds of stuff which he hopes is at times insightful, but which is mostly nonsense. His poetry and short fiction have been published in numerous literary journals over the years: markets with names like Snakeskin, Shattered Wig, Matador Review, Crab Fat Magazine, Jellyfish Review, Hollow Magazine and Peckerwood, just to name a few. He has self-published a chapbook of weird poetry, a small book of weird short stories, and now has become involved with zine publishing thanks to his friend Kate Berwanger. Steve lives in Seattle with his wife Stacey and some animals of various breeds. But no rattlesnakes.
Victor Devlin is a southern transplant and a visual artist.
instagram.com/recroomwall
recroomwall.wordpress.com
WillowTides. A creature exploring light, consciousness, and the chaos we call life. They work mainly with cut and paste collage, earth medicine, movement and dance, sound and poetry. They enjoy discovering ways to express these passions in zine form in attempts to connect, inspire and inform.
(Visited 1 times, 1 visits today)