Straight Pride Parade [Drag Show]
June 20, 2019 @ 7:30 pm

-

9:00 pm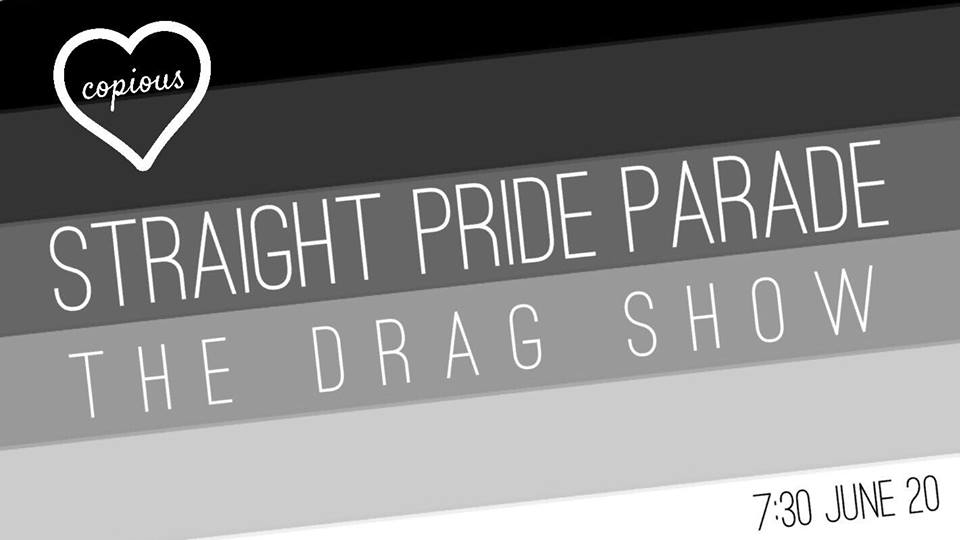 **A note about our location: The front door to Copious is on Market Street, between Bop Street Records and Pie Bar.**
This pride season we want to make sure nobody feels left out. Because with all the rainbows and homosexuals running amok, what about the poor oppressed hets? WHAT ABOUT MY STARBUCKS CUP??? WHAT ABOUT THE CHILDREN? WON'T SOMEBODY PLEASE THINK OF THE CHILDREN???
We got you. Put on your best fanny pack and cargo shorts and come on down for a raucous blasting of wild straight culture ending in a parade! Because really, who doesn't love a parade? YAY PARADES.
Tonight's Cockail: No Homo Bromo
—
Accessibility: Our freight elevator can be accessed from the entrance to the building on NW 56th. We know a separate entrance is not ideal and apologize for any inconvenience as a result of the building we are in. Please let Copious know if you need access to our elevator and one of our house managers will be happy to receive you upon your arrival.
Copious is an inclusive and safe space. The following actions or display of behavior will not be tolerated: bigotry, racism, sexism, transphobia, homophobia, misogyny, ableism, as well as the disrespect of the rules of consent. While our space does not meet ADA requirements, there is an old freight elevator in the building and it can be used as necessary. We will make every accommodation we can with advance notice. Our staff is here to support you.
Related Events