Strangeways: My Favorite Things @ SAM: Remix
November 6, 2015 @ 9:00 pm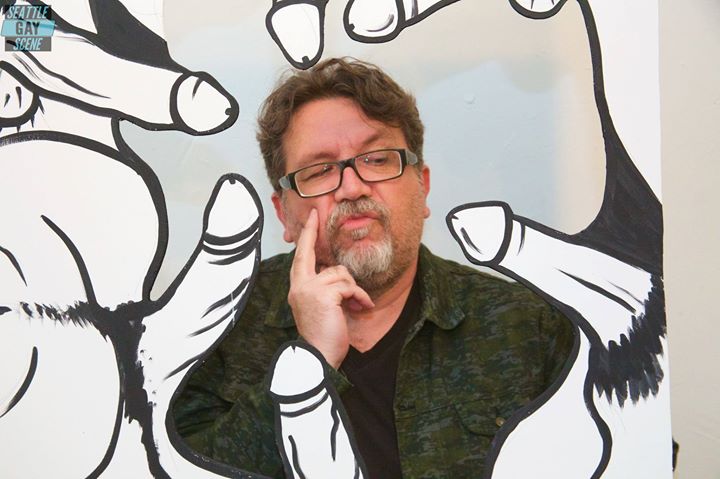 Obviously, I j'adore art. Look how reverently I am perusing the delighful art (by John Cristicello) in the above photo. It's quite apparent that I'm very much "into" the art and yearn to explore it…understand it…engulf it with all my senses.
Those nuts at the fabulous Seattle Art Museum have apparently found out about my artsy appreciation (or, have they lost their minds?) because they've asked ME to host a tour at this month's equally fabulous "SAM Remix" their delicious quarterly party. This month's theme is apparently "Choose Your Own Adventure" and I'm apparently an "adventure" you can choose!!!
Don't worry….I'll be gentle.
Also. I mostly come out at night.
Mostly.
Basically, what this means is that I've been asked to lead a mini-tour of "My Favorite Things" at the Seattle Art Museum. It'll last about 30 minutes and you'll follow me around the museum and reverently listen to me prattle on about the things I J'adore at SAM.
I promise we won't spend the entire tour in the Men's Room….
If I terrify you, then you can choose OTHER tour guide options including the fabulous Jody Kuehner (aka Cherdonna, though I'm not sure if Jody or Cherdonna will be leading their tour….)
Here's more info from the official SAM invite but grab tickets NOW because Remix almost always sells out…though they do save a few tickets at the door for people who show up in the appropriate attire.
Oh, and my tour will happen at 10pm at the top of the esculators!
Read on:
Create. Move. Engage. Play. #SAMRemix tickets are on sale now: visitsam.org/remix
Choose your own adventure from this late night of performances, activities, dancing, and more with our special exhibition Intimate Impressionism from the National Gallery of Art and SAM's amazing collection.
The night's events include:
-Dance the night away with mix master, DJ Fish Boogie
-Experience global sound with musicians from One Beat
-Connect with interesting people through Siren, an app project by Susie Lee
-Explore your creative side with activities by local artists Janet Fagan, Romson Bustillo, and Talia Silveri Wright.
-Witness a new performance by The Horse in Motion arranged from articles and reviews of their past shows, excerpts from Matisse's Self Portrait by Charles Mee, and contemporary reviews of Impressionist art.
-Experience the galleries in new and innovative ways with highly opinionated My Favorite Things tours led by artists, performers, creatives, and thinkers:
Jody Kuehner, dance artist also known as Cherdonna Shinatra,
Lorrie Cardoso, founder of Seattle Arts and Cultural Events Meetup group
Agnes Gawne, costume designer and faculty member at New York Fashion Academy
Thierry Rautureau, "Chef in the Hat" and owner of Loulay and Luc restaurants
Michael Strangeways, Editorial Director of Seattle Gay Scene
And much more…
Special thanks to our August 2015 Remix cohosts:
AIA Seattle, ARCADE, Alliance Francaise de Seattle, Fremont Abbey Arts Center, French-American Chamber of Commerce, LoveCityLove, OUT for Sustainability, The Pointe, Seattle Arts and Cultural Events, Seattle Fun Events, The World is Fun, Urban ArtWorks, Voices Rising, Young Professionals International Network, Young Professionals Network, and Wolfgang (Seattle Symphony).
This event always sells out—get your tickets now! visitsam.org/remix
Fashionably Floral: First 50 wearing head-to-toe floral patterns get in for FREE!
Related Events