SunshineJonesRocksFlammable! @ Monkey Loft
October 1, 2021 @ 10:00 pm

-

October 2, 2021 @ 4:00 am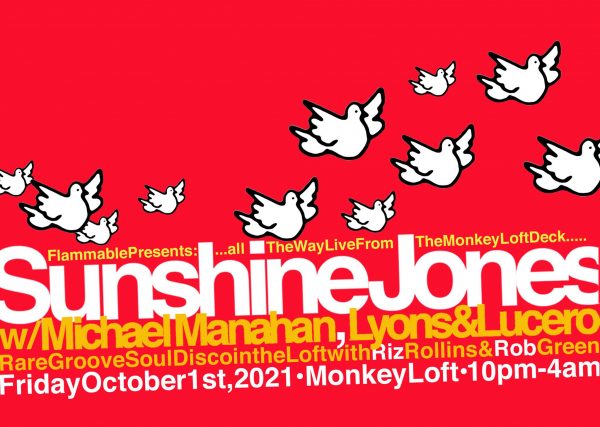 Sunshine Jones has long been a Flammable staple… and on more than one occasion has weaved together a transcendent & spiritual boogie experience for the FlammFamMassive… And as such we are thrilled to host him at another installment of our hugely successful pop-UP series parties (THANK YOU FAM! 
) This episode is back at MonkeyLoft, and weather permitting, Sunshine shall rock it FULL LIVE on the deck! We're equally ecstatic about guest support from the one and only Michael Manahan, as well as your dedicated residents Brian Lyons & Xan Lucero…
ALSO: Inside in the Loft, we are over the moon to host TheGoodReverendRizRollins and Mista Rob Green, who will be playing a DiscoFunkSoul set dug deep in tribute to Riz's original early 90's Sunday night at Re-bar… In so many ways Riz's soulful Sunday night jam was a HUGE inspiration for the think tank which would eventually become Flammable and I gotta say, this one is really hittin' a chord…
Soooo, basically this entire event is a huge thrill and honor for us to host…
We are super grateful for the opportunity, and we hope you can join us for the rare experience.
 FlammFam
*Liimited Pre-Sale ticket release scheduled for 10AM, Tuesday September 14th.
Related Events