Suzan-Lori Parks Town Hall Takeover
September 7, 2019 @ 2:00 pm

-

10:00 pm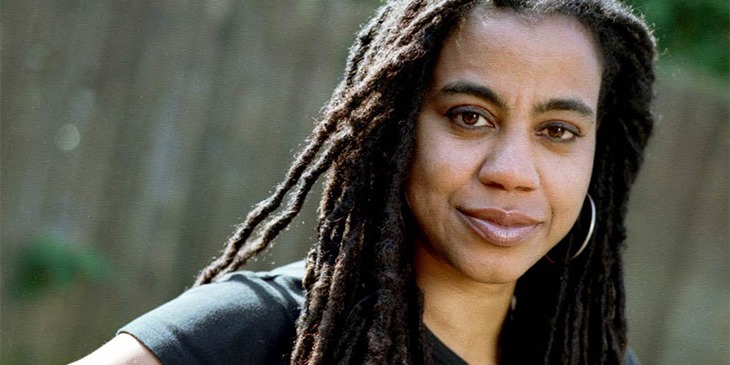 Suzan-Lori Parks Town Hall Takeover
Three unique events from an award-winning playwright
We're throwing open the doors of our newly renovated building for a full-day takeover by Pulitzer Prize-winning playwright Suzan-Lori Parks!
First at 2PM she occupies the Forum with an installment of her meta-theatrical performance Watch Me Work—an interactive meditation on the creative process. Suzan works in real time on a writing project and invites the audience to watch, or even choose to share the space and get some of their own writing work done. During the latter portion of the performance, she answers any questions the audience might have regarding their own work and their creative process.
Then at 5PM she takes the Great Hall stage to introduce her Town Hall-commissioned piece of writing, a companion piece to the incredible Robert Pinsky poem that inaugurated the space 20 years ago. Suzan delves into her inspiration for the piece, and explores questions of what it means to participate in a dialogue and collaborate with ideas to create something greater than the sum of their parts.
At 8PM she treats us to an evening performance by the Suzan-Lori Parks band, performing music all about the now with plenty of flashbacks to the past. With a Modern Soul, Black-Country, Psychedelic-Afro-Righteous sound, they play acoustic instruments over loops "thickly textured like a magenta and orange paisley edible spoken-word velour singing and flying magic carpet shag rug ride."
Come for one event and stay for all three—one ticket gets you in all day! Join us for an exploration of the creative process and three unforgettable events with one of the most acclaimed playwrights of our time.
Suzan-Lori Parks is the first African-American woman to receive the Pulitzer Prize in Drama. She is a MacArthur "Genius" Award recipient, and in 2015 was awarded the prestigious Gish Prize for Excellence in the Arts. Her project 365 Days/365 Plays (where she wrote a play a day for an entire year) was produced in over 700 theaters worldwide, creating one of the largest grassroots collaborations in theater history.
Schedule:
2PM – Watch Me Work performance in the Forum
5PM – Commissioned Writing Talk in the Great Hall
8PM – Suzan-Lori Parks Band Concert in the Forum
Related Events