SWEATLODGE – Indigenous Burlesque and PoC only Late Nite Pride After Party!
June 24, 2022 @ 8:00 pm

-

2:00 am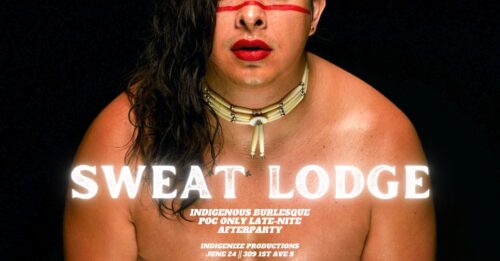 SWEATLODGE
Indigenous Burlesque and PoC only Late Nite After Party!
Sweat Lodge at 8pm, doors at 730
The After Party at 10 (PoC only at midnight till after hours!)
It's time to get sweaty 
 SWEATLODGE is going to bring you to another level, a new height of salacious, sexy Indigenous bodies shakin what the Creator gave them! SWEATLODGE is the first all Indigenous burlesque show in Seattle, and is right on time for Pride! 
Come for the show, stay to shake your ass at The Sweatlodge After Party! (The After Party will be PoC only after 12).
The After Party will be going to late late late!
See you all soon at Gallery Erato!
Featuring
Whisper de Corvo @whisper_de_corvo
Madame Steph @stylophonicdoll
theres more @_theresmore_
Hailey Tayathy @haileytayathy
Mia Mirage @mia__mirage
And host
Andrés José @thechurchofcharlatan Djs:
@_theresmore_ Gila Suspectum @gilasuspectum (Portland)
A portion of the proceeds are benefitting the Pan Eros Foundation.
Get your early bird tickets between now and June 3!
TICKETS
Sweatlodge (burlesque show only)
GA: Native, Black and PoC – $20 early bird presale, $25 regular presale, $30 at the door
GA: $30 early bird presale, $35 regular presale, $40 night of; $100+ 2SPIRIT LANDBACK RECOVERY FUND
VIP: Native, Black and PoC – $35 early bird, $40 regular presale, $45 night of;
VIP: $45 early bird, $50 regular, $55 night of
Sweatlodge and After Party (PoC Only After 12)
PoC GA: $40 early bird, $45 regular presale, $50 night of
PoC VIP: $50 early bird, $55 regular presale, $60 night of
GA: $50 early bird, $55 regular presale, $55 night of
VIP: $60 early bird, $65 regular presale, $65 night of
After party only:
PoC Only $15 early bird, $20 regular presale, $25 at the door
GA (from 10pm-12 only) $20 early Bird, $25 regular presale, $30 at the door
$100+ 2SPIRIT LANDBACK RECOVERY FUND
(Visited 2 times, 1 visits today)
Related Events