Tasveer Film Festival Opening Night: Coming Out with the Help of a Time Machine | 7 Days
October 1, 2021 @ 6:00 pm

-

8:00 pm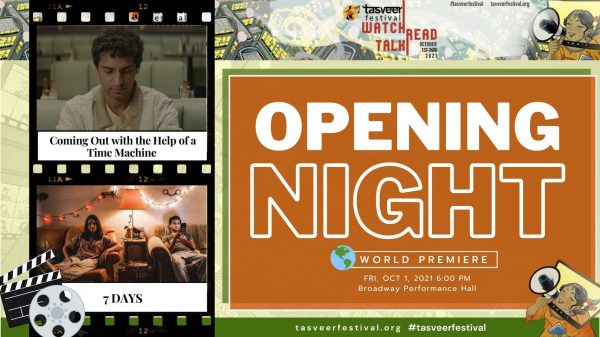 Opening Night: Coming Out with the Help of a Time Machine | 7 Days
Tasveer Festival Opening Night Schedule
6:00 PM: Red Carpet Walk with filmmakers
6:30 PM: Film Screening of 'Coming Out with the help of Time Machine' (Tasveer Film Fund 2020 winner) and Post-Film QnA with Naman Gupta, Janki Parekh, cast & crew
7:30 PM: Film Screening of '7 Days'
Coming Out with the Help of a Time Machine
LGBTQI+
View all films tagged "LGBTQI+"
Comedy
View all films tagged "Comedy"
An MIT graduate, Sid, decides to come out to his traditional Indian parents with the help of a time machine. From the waitress spilling the coffee to a nosebleed to a fire in the kitchen, things don't go as planned, forcing Sid to press reset every single time and start all over again. When he is finally able to tell his parents that he loves a HE, not a she, their angry reaction forces him to press reset again. After countless more attempts, Sid finally realizes that no matter how many times he starts over, there is no escaping the situation, and he has to face his parents without the help of the time machine. What follows is a deep and emotional dialogue between him and his parents which ends up bringing them closer than ever.
Showings
Fri, Oct 1st, 6:00 PM @ Broadway Performance Hall
Year:

2021

Runtime:

30 minutes

Language:

English, Hindi

Country:

United States

Premiere:

WORLD
Director:

Naman Gupta

Screenwriter:

Naman Gupta & Janki Parekh

Producer:

Neetu Sharma Gupta, James Orfanos

Executive Producer:

Nav Gupta

Co-Producer:

Tasveer Film Fund
7 Days
Comedy
View all films tagged "Comedy"
Drama
View all films tagged "Drama"
Setup on a pre-arranged date by their old-fashioned Indian parents, Ravi (Karan Soni) and Rita (Geraldine Viswanathan) seemingly have nothing in common, making for an afternoon that, while pleasant enough, couldn't be any more awkward. He's conservative and clearly nervous, while she's doing her best to politely keep on smiling. But then the unthinkable happens: As the COVID outbreak intensifies, the shelter-in-place mandate is issued, forcing Ravi to spend the night at Rita's place. Before long, he sees that she's not the straight-laced girl she initially pretended to be—for starters, she's quick to pound a beer for breakfast. As their time stuck together stretches towards a full week, though, Ravi and Rita develop an unlikely bond, and in the face of a heartbreaking turn of events, that bond grows into something stronger.
MORE DETAILS
PLAY TRAILER
Showings
Fri, Oct 1st, 6:00 PM @ Broadway Performance Hall
(Visited 1 times, 1 visits today)
Related Events