The 9th annual Short Run Comix & Arts Festival
November 9, 2019 @ 11:00 am

-

6:00 pm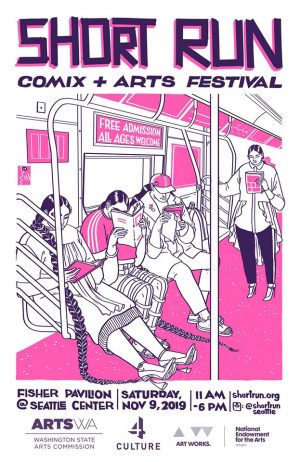 Free admission! Arrive early to scoop up 1 of 50 coveted swag bags and have a $2 coffee at our Bake Sale!
Short Run hosts 240 local, national, and international exhibitor-artists, as well as special guests: Delhi-born, Baltimore-based artist and fashion illustrator Jasjyot Singh Hans (BadaBehtarHai series, The New York Times, Vogue India); Vermont-based comics artist Glynnis Fawkes (Persephone's Garden); Jul Gordon, a multimedia artist from Hamburg, Germany; and DC-based comic artist and NPR journalist Malaka Gharib (I Was Their American Dream). Invited guest Abraham Díaz, from Mexico City, will be in absentia, as the US Embassy denied his artist visa. We will have his books for sale at our merch table. Our bake sale returns, as well as Sourdough On The Go! Food Truck that will be serving free grilled cheese sandwiches!
Experiential programming at the festival will feature the animated films of Bruce Bickford who we lost this year (assembled by Clyde Petersen of SEAT); Lauren Moore, an ASMRtist that combines energy work and color therapy to create a Soft Space for attendees feeling overstimulated; a teen table featuring foundry10 and The Center School Zine Team; Vera Gallery art show featuring Cole Pauls, Jul Gordon, Jesse Simpson, and Dennis Madamba on the theme of otherness, sameness, and the fears and fantasies that sit in the meeting places between the two; Paranormal interactive experiences with Liminal Earth; live screen-printing with Fogland Studios; and a special showing of "The Illumination of Jim Woodring", a new documentary of a local master, with director and artist in attendance. Don't miss it!
After-party to follow at The Vera Project, from 8 pm – 11 pm. DJ Scorpio Tail! Dance Contest! Photo Booth! $5 21+ Cash bar.
Fisher Pavilion is equipped with ADA elevators, and Short Run will designate restrooms as gender neutral, add lactation room, 8-10 ft aisles in between rows, closed captioning on animation screenings, and large print signage. Contact us if you have any further accessibility concerns: info@shortrun.org
We can't wait to see you! Come out and support your local comics community, and welcome traveling artists from all over the world!
Related Events