The Breakfast Club – New Years Day @ Monkey Loft
January 1 @ 4:00 am

-

4:00 pm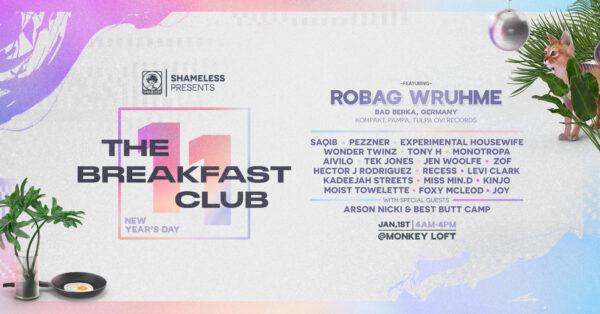 The 11th annual New Years DAY tradition is BACK! Inside/Outside 3 Stages! 12 Hours. Day 1 of 2022. Let's dance!
We're back! What started at ETG has been carrying on at Monkey Loft. For the 11th year in a row, Shameless is continuing our tradition of throwing a New Years DAY party and it'll once again take place on our favorite rooftop rain or shine. This year we're continuing to curate multiple rooms of music to help our friends/family start 2022 off right! 3 Stages! 12 Hours! Just Ups & Still Ups unite!
Featuring:
++ROBAG WRUHME++ (Kompakt, Pampa, Tulpa Ovi Records, Bad Berka Germany)
Birth is followed by being raised in Apolda. Apolda sadly is carving out an existence as overlooked spot on the map. The eye tends to be magnetized by the flashier places Jena and Weimar in the neighbourhood. So let's have a little excursus on Apolda. The biggest bell of the Cologne Cathedral stems from Apolda. Apolda = bell town. Apolda holds his own car manufacturing – the Apollo Werke. In 1904 the first ever automobile is chugging off right there – and that's before MB, BMW, VW, Porsche, Audi et al are in the picture. Apolda = car town. The dog breed Dobermann has its roots in Apolda, too. Mr. Dobermann was dog-taxman at the time and began his concrete dog-work between 1875 and 1880. The eponymous woof-woof being the outcome. Apolda = Dobermanntown. End of excursus.
Then one day, DJ Koze rings up and whispers the tender salutation "Na, Dicker…" through the receiver. Begin of a long lasting friendship. The [kəʊ.zi]-curated imprint Pampa Records opens its doors for Wruhme and it is indeed very [kəʊ.zi] there, so Wruhme stays and releases quite a few records. One of them being the 2011 issued opus magnum "Thora Vukk". Now rumour has it that 2019 will be the year, the album-saga continues…
Plus!!!
Special Guests Arson Nicki & Best Butt Camp
————————–
Also please note that proof of vaccine (or negative PCR test within 72 hours) is required for entry. Masks required inside per Washington State guidelines. No refunds.
Related Events