Trans Pride Seattle 2019
June 28, 2019 @ 5:00 pm

-

9:30 pm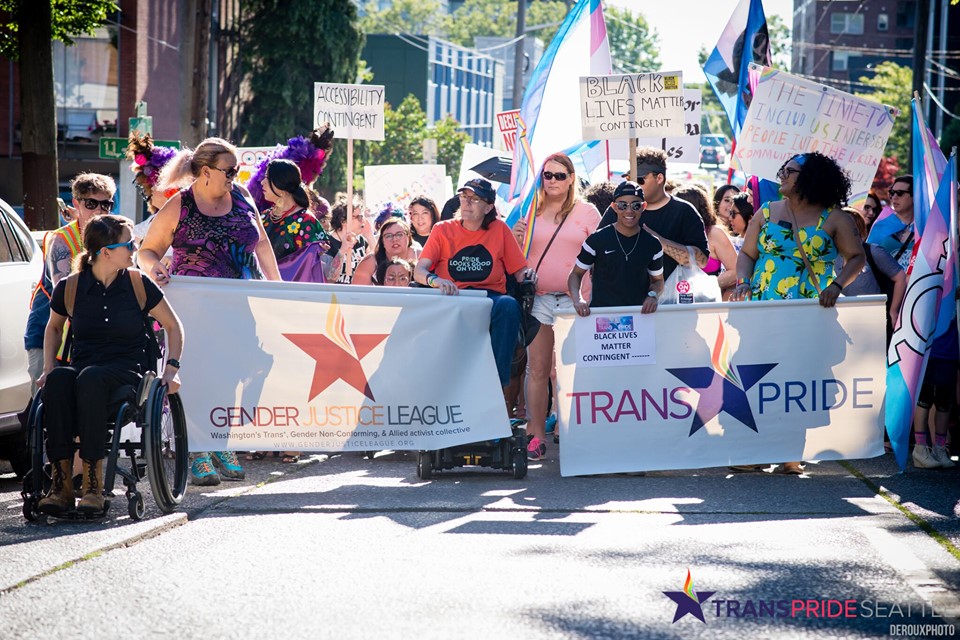 Trans Pride Seattle 2019 is Seattle's Celebration of Two-Spirit, Trans, Gender Diverse, and Non-Binary people in the heart of Capitol Hill produced by Gender Justice League.
Entering our 7th year – Trans Pride Seattle has become one of the countries largest celebrations of gender diverse people – focused especially on the communities in the Pacific Northwest.
Trans Pride Seattle bringing performers from around the country and Mexico to deliver ground breaking and amazing performances, musical talent, speeches, and comedy.
Trans Pride Seattle is an amazing opportunity to connect with community, make new friends, celebrate our collective strength and continue our communities resistance with riotous demands for equity and justice!
You will also find resources of more than 60 organizations local to Washington State at our tabling fair. Each year Trans Pride Seattle sees more than 15,000 people. It's the perfect way to kick off Pride Weekend in Seattle.
All are welcome to participate in both the March and Festival that support Trans Pride Seattle's Mission, Values, and Vision. We reserve the right to limit the participation of organizations or individuals who seek to promote values not consistent with our values statement.
ACCESSIBILITY:
We believe in radical accommodations to make our space accessible. Please see our following policies which apply to all participants:
This is a scent & smoke free event!
We want to ensure full participation by our community members with respiratory, sensitivity, and allergy needs.
Please avoid wearing scented products such as: chemical fragrance, scented hair products, fragrance lotion or sunscreen, or deodorants. This will help us make the space accessible.
If you need to smoke, vape or toke – we ask that you do so more than 500 ft from participants. (Pine Street, 15th Avenue, Broadway Ave, or Olive Street are all a good distance).
This event will be ASL Translated.
Limited Accessibility Seating will be provided at the front of the stage for people with disabilities, those who need ASL interpretation, those with mobility needs, or people who need a fan ventilated area.
Identity Specific Spaces:
This year will see a return of the popular POC Pavilion
The Low-Sensory Spoons tent will return this year
If you need additional accommodations or wish to organize an identity specific pavilion please contact: sarah@genderjusticeleague.org, david@genderjusticeleague.org, or elayne@genderjusticeleague.org
Schedule · Friday, June 28, 2019
Volunteer & Tabling Check In
March Assembly @ Thomas & Broadway
March Steps Off Down Broadway
Resource & Tabling Fair in Cal Anderson Park
Main Stage Programming in Cal Anderson Park
(Visited 1 times, 1 visits today)
Related Events