Trans Shorts and Speed Friending
April 28, 2019 @ 1:30 pm

-

4:00 pm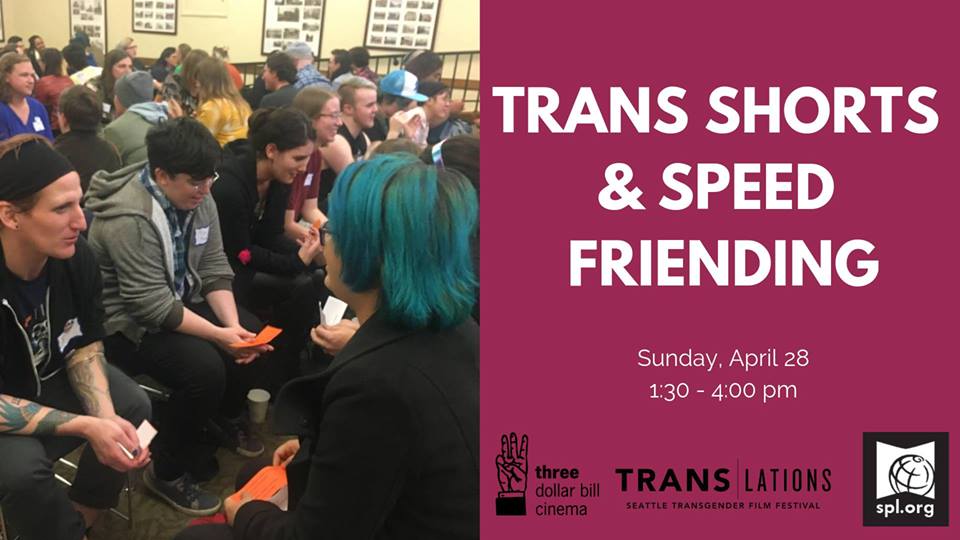 Tired of impersonal dating apps and looking for a way to meet other queer/trans folks in a friendly environment? Look no further! Join SPL and Three Dollar Bill Cinema's Translations: Seattle Transgender Film Festival for some fun movies, a friending activity with discussion prompts, and refreshments! Space is limited. First come, first served.
Film Descriptions:
UNBOXED: EPISODE 3: JACQUIE Sam Matthews; 2018; Australia; 6 min. From the series Unboxed about gender-diverse artists, Australian painter and teacher Jacquie shares her experiences creating portraits and working with students.
TRANS•IENCE Brit Fryer; 2014; USA; 8 min. Director Brit Fryer lays bare his vulnerabilities in this poetic film that uses the camera to tell the coming of age of a transmasculine person of color.
HOMEMADE Diana Khong; 2017; Canada; 10 min. Tattooing is dominated by white, cis, straight men, but
Sally and Jasmine are making their way by creating their own spaces and being scrappy.
WHAT DO YOU SEE? Michael Bonner; 2018; Australia; 5 min. As the camera pulls back in this performative documentary, Sereena, who confronts prejudice daily, invites us to watch. But what exactly gets revealed?
Related Events