Transgender Day of Remembrance 2019/Seattle
November 20, 2019 @ 6:00 pm

-

7:30 pm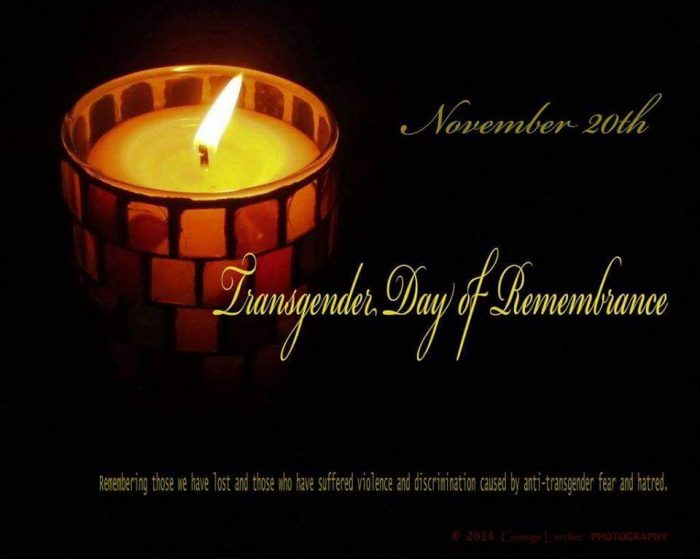 The trans community continues to suffer persecution and violence at the hands of trans-phobic people and groups. Add to this the current administration's attempts to erase trans people out of existence, and it becomes clear that now, more than ever, we as a community must stand together in solidarity against this oppression and hate.
Last year in the United States, at least 23 transgender people died as a direct result of fatal violence, the second most ever recorded. 2019 has already seen at least another 27 trans people killed by violent means. While the work towards justice and equality for transgender people continues, we must also mourn those we have already lost in the fight for acceptance.
November 20th is Transgender Day of Remembrance, and we are honoring this solemn day with a gathering at Seattle Central College, Room 1110 on the first floor of the Broadway Edison (main campus) building, at 1701 Broadway. Room 1110 is located towards the south side of the building on the lowest level facing Broadway, and is handicap accessible. There will be signs to guide you. This is a large indoor/outdoor space, ideal for gathering in solidarity and support of those whose lives have been lost, and those who continue to fight for equality and acceptance. In these times, it is more important than ever that we have highly visible events like this, for the community to show solidarity and reassure our trans brothers and sisters that they are not alone!
We will be holding a candlelight vigil to read the names of those who've lost their lives to anti-trans hate crimes and violence in the United States. Due to fire code restrictions, the candlelighting portion of the ceremony will be held on the attached large patio of the space, so please dress appropriately for inclement weather. As an added touch, we will also be building a floating shrine in honor of the victims in other countries, to spread our remembrance of them across the city's waterways. Please join us if you can, and help spread the word! If you plan to attend, please click the "going" button to reserve your candle (we need to know how many to get!), and we will see you there!
SPEAKERS:
*Elayne Wylie* – Executive Director of Gender Justice League, Filmmaker, Trans Rights Activist, Trans Pride Seattle Organizer
*Taylor Briggs* – Scholarship Program Director for Greater Seattle Business Association, Trans Advocate/Activist
* Natalie Star* – Trans Rights Activist, Lobbyist, Mentor, Teacher
*Jasper Hice* – Membership Outreach Co-Chair for HRC Seattle Steering Committee, Teacher, Queer Rights Activist
* Honor Love-Lacy* – Trans Activist, Seattle Central Student
EVENT HOST/MC:
*Astro Pittman – Editor-in-chief, Seattle Collegian; President, Queer Cooperative
2019 TDOR EVENT COORDINATOR:
*Morgan Wigmore, Queer Cooperative
This event will be ASL interpreted, and is wheelchair accessible.
Light refreshments will be provided courtesy of HRC.
Sponsored by Queer Cooperative of Seattle Central College. With grateful support from HRC Seattle, Greater Seattle Business Association, the Sisters Of The Mother House Of Washington, and Seattle Central College.
#WontBeErased
#TransPeopleArePeople
#StopTheViolence
#FightTheHate
#TransAlly
#SayTheirNames
***This is not a protest, or an event to engage in or promote hate, hate-speech, or violence. This is a peaceful gathering, and a sacred space. Please be mindful of the energy and attitude you bring to this gathering. Although there will be NO police presence at this event, there will be campus security on-site for the duration of the event for the safety and comfort of all***
We love you all!
Other TDOR events happening around Washington:
Hosted by U.T.O.P.I.A Seattle:
Wednesday, November 20, 2019 at 7 PM – 9 PM
Trinity Community Church
3807 Reith Rd, Kent, WA 98032
Hosted by Kelly Chance and Christine Cummings:
Saturday, November 23, 2019 at 7 PM – 10 PM
St Hilda & St Patrick Episcopal Church
15224 52nd Ave W, Edmonds, WA 98026
Hosted by PFLAG Everett:
Wednesday, November 20, 2019 at 7 PM – 9 PM
American Legion Memorial Park
145 Alverson Blvd., Everett, WA 98201
Hosted by Quimper Unitarian Universalist:
Wednesday, November 20, 2019 at 7 PM – 9 PM
Quimper Unitarian Universalist Fellowship
2333 San Juan Avenue, Port Townsend, WA 98368
Hosted by Burlington Lutheran Church:
Wednesday, November 20, 2019 at 7 PM – 8 PM
Burlington Lutheran Church
134 E Victoria Ave, Burlington, WA 98
(Visited 1 times, 1 visits today)
Related Events