Translations Film Festival: Know Your Hirstory (Shorts Program)
May 4, 2019 @ 2:30 pm

-

4:00 pm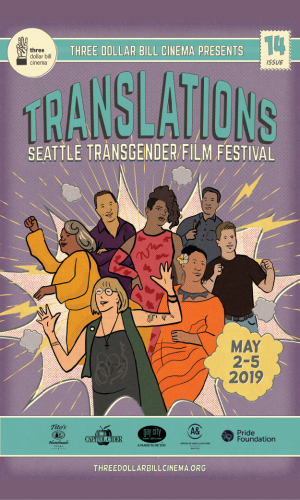 Travel back in time to uncover stories from our collective transgender past.
Sponsored by FLUX
Co-Presented by Black and Pink – Seattle Tacoma
Shorts Included in this Program:
YOUR HEART BREAKS: "OUR FORBIDDEN COUNTRY"
The newest music video from Your Heart Breaks (Clyde Petersen, WE'VE BEEN AROUND, Translations 2016; TORREY PINES, TWIST 2016) travels back in time to the forbidden world of queer hookups then and now.
MY GENDERATION: JOSIE & POPPY
Josie and Poppy share their experiences, regrets, and hopes for the future in this candid and powerful discussion.
SANCTUARY
In this homage to STONE BUTCH BLUES, a '60s-era queer couple return home after a bar raid that sparks moments of care and disconnection.
QUEENS AT HEART
An unearthed archival 35mm print offers a rare and poignant glimpse into the lives of four transwomen living in pre-Stonewall New York City. Preserved as part of the Outfest Legacy Project for LGBT Film Preservation.
WHATEVER HAPPENED TO JACKIE SHANE?
Using shadow puppets, overhead animation, and stop-motion techniques, explore the little-known history of Jackie Shane–a flamboyant, black, queer musician whose 1963 hit song "Any Other Way" became an anthem to divas everywhere. And then she disappeared.
CHRISTINE IN THE CUTTING ROOM (EXCERPT)
This nontraditional reimagining of Christine Jorgensen, who in 1952 became a celebrity after sex reassignment surgery, sets in-your-face archival footage to an electronica soundtrack.
SAFETY IN NUMBERS: A TRANS HISTORY
This documentary explores the experiences of transgender pioneers during the 1950s and 1960s, and the voices of contemporary trans youth.
FRAMING AGNES
With the recently uncovered files of 1950s transgender patients at UCLA Medical Center, today's trans culture-makers Zackary Drucker (Transparent), Angelica Ross (HER STORY, Translations 2016), Silas Howard (BY HOOK OR BY CROOK, Translations 2016), Max Wolf Valerio (The Testosterone Files) and Chase Joynt (GENDERIZE, Translations 2017) travel back in time to breathe new life into these long-silenced pioneers.
Related Events