Translations Film Festival: Trans Joy (Shorts Program)
May 5, 2019 @ 2:30 pm

-

4:00 pm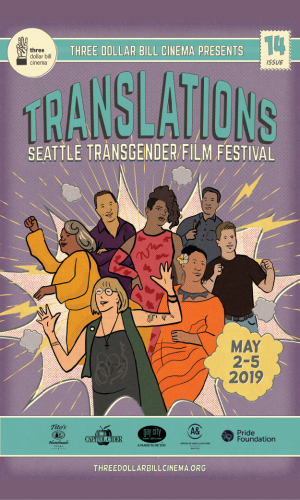 Couldn't we all use some trans joy? Check out this radiant collection of trans people living their best lives, and leave with a smile on your face.
Sponsored by BECU
Shorts included in the Program:
MY GENDERATION: I LOVE MY TRANS BODY
Trans people reflect on their bodies and what makes them beautiful. A celebration of trans bodies in all their diversity.
theyTHEM
Through honest and charismatic testimony across a spectrum of gender representations, races, and generations, this stylish documentary approaches gender and pronouns from historical and personal points of view.
PUSH PINK
An investigation into how men pee.
FRAN THIS SUMMER
Francis and Angie are a young couple in love, spending much of their summer indoors as Francis begins their transition.
MY GENDERATION: SOME DADDIES ARE LADIES
Transwoman and artist Emma Frankland and her son Jowan chat about what it means to have a transgender, gender-nonconforming, nonbinary parent.
BURTON BEFORE AND AFTER
Ever want to go back in time to meet your previous self? Burton puts his truth before his fear in this portrait of transition, memory, and friendship. Winner of Best Transgender Short Film, SQFF 2018.
PATCHWORK: MAKI
Glaswegian Maki Yamazaki talks about community, friendship, and life as a transgender musician with Ehlers-Danlos syndrome.
LIKE MOTHER, LIKE DAUGHTER
Hoping to feel connected with her mother and her own budding identity, Robyn secretly tries on her mother's áo dàis as they both prepare for the lunar new year.
SUPER QUEER FORCE: MISS GENDERING
When Rando Sally is misgendered at a supermarket, a group of queer superheroes magically appear to save the day.
GLORIA
In the 1960s South, a gender-questioning teen steps out of their comfort zone and into a night of unexpected surprises in this beautifully designed, award-winning short.
(Visited 2 times, 1 visits today)
Related Events