TRANSOWEEN 2021 @ Seward Park
October 30, 2021 @ 3:00 pm

-

10:00 pm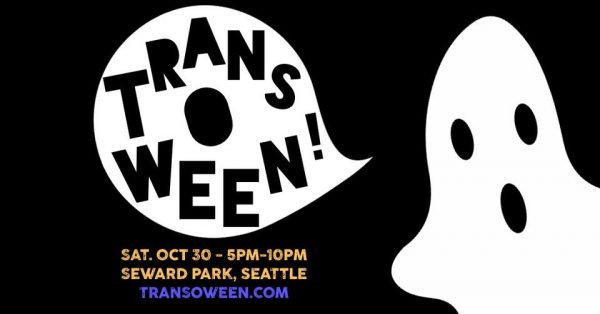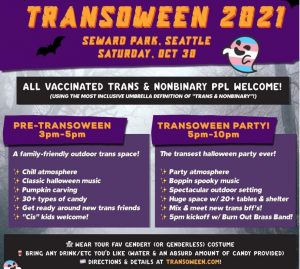 Let's dress up and get spoOooky!
Over 300 beautiful trans & nonbinary people showed up for our Seattle Trans Picnic in Aug, and Seattle Trans Beachday in Sept, and now it's time for a party! Come up with your most genderful (or genderless) costume and celebrate halloween the trans way.
I don't know all the events going on around the world, but unless someone corrects us, let's just call this the biggest trans halloween party anywhere ever in history. 
Halloween can be a weird time for trans & nonbinary people — the gender expectations, the cis gaze, weird feelings about gender as a costume, the chance to freely present like you want, etc. So forget all that, and be around other trans folks who get it!
This will be an OUTDOOR event to be as covid-safe as possible, but we got maybe the best possible outdoor spot in the city. We have a huge spot in the middle of Seward Park surrounded by old growth forest. There are 20+ picnic tables, a large shelter, and restrooms all reserved for us and us only! We'll plan to decorate and light the heck out of it to be as cool a space as possible. It'll be really atmospheric, but it's a very safe park (if you stay out of the water!). We plan to be festive and fun, not to actually scare people! Life is scary enough.
We'll monitor covid as it comes closer to the date (HOPEFULLY it gets a little better by then). We'll also monitor rain — since there's shelter and tree cover, drizzle or light rain will be fine but a forecast of pouring rain will be a judgment call whether to go forward.
Please share this event with all the trans people you can reach, or share 
www.transoween.com
!
——-
DEETS
——-
WHEN: Saturday October 30th, 5-10pm
WHERE: Seward Park, Shelter #3. A huge and gorgeous clearing by the old growth forest. We have it reserved, and it's all for us.
WHO: All trans and/or nonbinary folks — using the broadest definition, including two-spirit, agender, gender non-conforming, questioning, and other folks who aren't cis.
WHAT: From 3-5pm it'll be a chill spot with snacks, some music, a family-friendly atmosphere, and pumpkin carving (bring your own pumpkin!). From 5pm-10pm it'll be a fun outdoor chill party with all kinds of halloween candy, music, and a great atmospheric vibe (sundown at 6pm).
HOW: There's a big parking lot right next to our spot and it's wheelchair-accessible. There are two other very close parking lots for overflow. It's also on the Metro Route 50 which comes from West Seattle, SODO, Columbia City, and Othello light rail stations. Lyft/Uber and carpooling are other alternatives — check the FB event and ask for carpool buddies.
WHAT TO BRING: Your awesome self, a genderful (or genderless) costume — optional but highly recommended, and if you want, bring your own drinks and/or food. There will be candy/treats, but not full meals and only soft drinks & water — you bring anything else. Bring a pumpkin if you want to carve one during 3pm-5pm.
SAFETY: BE COVID VACCINATED OR DON'T COME! We hope that the covid situation will get better by the end of Oct and we'll monitor if we need to cancel. Keep each other safe!! It'll get dark but we plan to have plenty of moody light from the parking lot to our area. We're around the woods and the lake and it'll get dark — be SAFE ok???? We love you.
Comment or DM with any questions, concerns, requests, information, etc!
(Visited 3 times, 1 visits today)
Related Events