Tremulant Presents Ali Farahani
August 14, 2021 @ 10:00 pm

-

2:00 am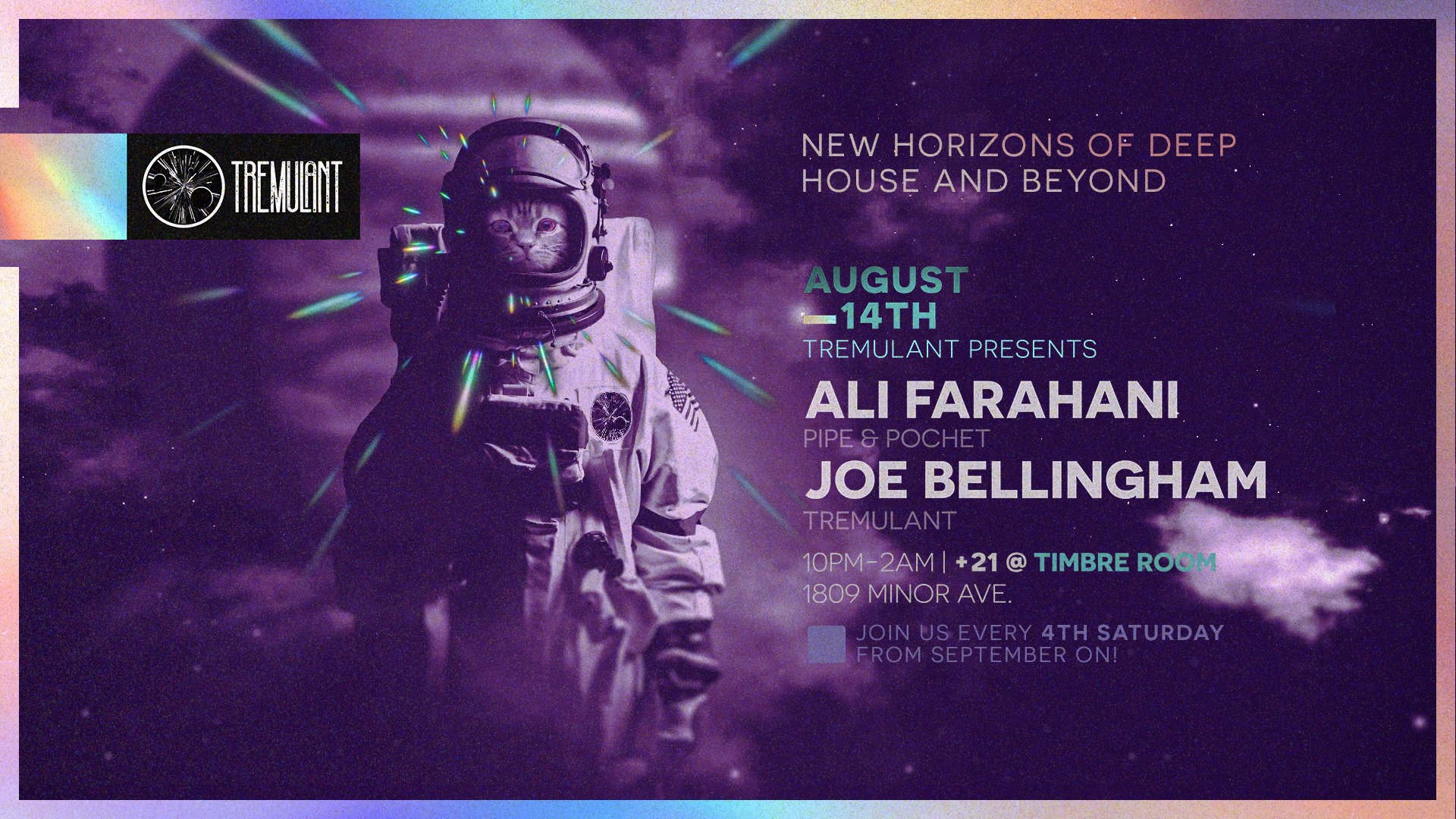 Tremulant is proud to present
Ali Farahani
Pipe & Pochet, LA
Joe Bellingham
Tremulant
Timbre Room
August 14th
10pm-2am
1809 E Minor
Seattle, WA, Earth
www.kremwerk.com
After wandering countless galaxies and exploring the far reaches of deep space aboard the GOOD Ship… Tremulant returns to Earth! More specifically- the Timbre Room!!
The past year has given us an opportunity for deep reflection and plenty of time to consider what is important. The music, arts and friendships that we had come to rely on has been distant for far too long. Together we can rekindle the vibe! The love! Those special moments on the dance floor! The Tremulant crew is ready!
You can be sure Capt. Trem kept the crew in peak mental and physical conditions…We're all really excited to once again bring you the freshest and deepest organic sounds from around Earth! Together we can discover new horizons of Deep House and beyond… Join us every 4th Saturday from September on!
-SAFER SPACE-
The following actions or displays of behavior will not be tolerated: bigotry, racism, sexism, transphobia, homophobia, misogyny, and ableism.
Consent is required when interacting with others. A person's choice of self-expression is not an invitation for non-consensual touching. Any form of harassment including leering, rude comments or touching will be dealt with, and anyone caught harassing other patrons will be given a lifetime ban from our club. Our staff is here to support you.
-PHONES-
For the sake of the vibe during dance parties, we ask that you avoid using your phones or taking photos anywhere on the dance floor. Feel free to use your phones on the patio.
To stay in the loop about upcoming events, ticket giveaways, and more, sign up for the Kremwerk + Timbre Room Complex mailing list!
http://www.kremwerk.com/
——————–
– About Ali Farahani –
Born in Milan Italy with Iranian heritage, Ali started music when he was 14 years old playing Afro
Cuban percussion. Growing up in Italy, electronic music is ingrained into the culture and has had
great influence on the evolution of his productions.
Around the age of 18, Ali began to create music. His very first release was titled "Persian
Dream" featuring Marco Bonuso released on Sound Division (ITA). Persian Dream was one of
the first fusion tracks that truly combined electronic music with Middle Eastern vibes. Persian
dream was one of the most successful tracks played in 2007 by some of the largest artists in the
world.
The next release was a collaboration with DJ Aron of LE Follies De Pigalle called "Don't feel no
shame". It was featured as one of the top Beatport tracks and number 6 on the overall chart for
2 months in 2008. Shortly after, Ali began to play at many clubs and events across Italy.
In 2011, he moved to LA and shifted away from European-tech to more sophisticated sounds
with experimental grooves and slower beats inspired by his origins.
After moving to the US and being away from music for few years, Ali has made a comeback and
started producing and showcasing again and most recently he opened the Santa Monica based
label Pipe & Pochet with Patrik Khach. His goal is to inspire other artists and fans through music
and has now began to showcase his productions in the US and beyond.
—————————
Timbre Room is ADA accessible with a ramp to the front door/bar area, and access to the back door/dance area through the patio area, and 2 accessible gender-neutral restrooms available. For any questions about safety & accessibility, please email info@kremwerk.com.
Related Events