Tremulant Presents MIICHII
September 25, 2021 @ 10:00 pm

-

2:00 am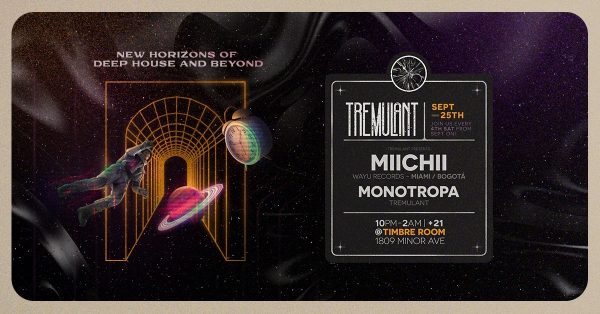 Tremulant Presents
MIICHII (Miami, Bogotá – WAYU Records)
Monotropa (Tremulant)
September 25TH
21+ | 10pm-2am
About MIICHII:
A world explorer born in Bogotá, Colombia, and now based in Miami; MIICHII is Leonardo's way of expressing his love for music through organic, electronic, and melodic sounds. A former resident DJ at Behrouz's own "Do Not Sit on The Furniture", MIICHII's focus is to expand his sound, "reminiscent of the Burning Man Playa" (Deep House Amsterdam), across everywhere. Not only he has performed in places such as Burning Man (2017, 2018, 2019), internationally (Canada, Mexico, Costa Rica, France, Spain, Germany, The Netherlands), nationally ( Analog BKNY, AMAYA, KUNÁ, SBCLTR, Sounddek, Sub Rosa ), and locally in Miami (Do Not Sit on The Furniture, Soundtuary, Tree House, The Wynwood Factory), but also shared stage with Behrouz, Serge Devant, Nico Stojan, Armen Miran, Viken Arman, Atish, Hoj, BLOND:ISH, Brian Cid and Marques Wyatt. MIICHII's music has also been supported by Acid Pauli, Nico Stojan, Behrouz, Andhim, Oliver Koletski, Armen Miran, Atish, Kora, Madmotormiquel, Unders, Hraach, Goldcap, among others.
………………………………………
SAFER SPACE
The following actions or displays of behavior will not be tolerated: bigotry, racism, sexism, transphobia, homophobia, misogyny, and ableism.
Consent is required when interacting with others. A person's choice of self-expression is not an invitation for non-consensual touching. Any form of harassment including leering, rude comments or touching will be dealt with, and anyone caught harassing other patrons will be given a lifetime ban from our club. Our staff is here to support you.
PHONES
For the sake of the vibe during dance parties, we ask that you avoid using your phones or taking photos anywhere on the dance floor. Feel free to use your phones on the patio.
………………………………………
To stay in the loop about upcoming events, ticket giveaways, and more, sign up for the Kremwerk + Timbre Room Complex mailing list!
http://www.kremwerk.com/
Related Events